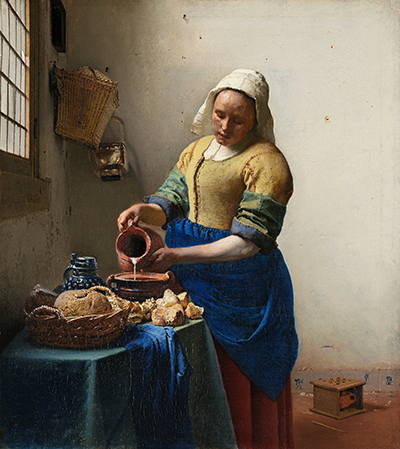 Buy Art Prints Now
from Amazon
* As an Amazon Associate, and partner with Google Adsense and Ezoic, I earn from qualifying purchases.
The serene and soothing resonance of 17th Century Dutch painter Jan Vermeer's works is universally recognizable.
While he showed great competence as a landscape artist with the panoramic "View of Delft" his work never seemed to see him leave his hometown. This relative isolation may have, in the long run, ended up not serving him well as an artist.
His paintings primarily depict women in tranquil, domestic scenes, within the walls of his home in Delft. This is especially true of his 1660 painting titled "The Milkmaid" which depicts a Dutch female servant pouring a jug of milk into a container.
This round container is resting on small table draped with a cloth and surrounded by a basket, broken-up pieces of bread and kitchen items. The room she stands in is a starkly-painted white stone with grey undertones. Through the window directly before her, a soft light filters in and creates vivid crispness and rich contrasts within the room.
Is it the lady herself that gives the painting such timeless appeal? The milkmaid is a stocky, strong-looking woman with regular features, perhaps in her mid-thirties. Dressed in a servant's uniform of vibrant aquamarine, yellow, green and crimson and wearing a crisp white bonnet, she is surrounded by items that have traditionally symbolized the comforts of home and hearth.
Most notable details are the almost sterile starkness of her surroundings coupled with the brilliant whiteness of the milk and varied textures of the bread. Eventually our eyes settle on her expression of concentration. This has led to conjecture about what emotions are behind her expression.
At the lower right-hand corner of "The Milkmaid", there is a small wooden box which was used to warm the feet during that time period. Between her skirt and the foot warmer is a wall tile with a cupid etched on it.
She may have been a much-loved family servant. But there has also been speculation about the significance of this symbol as it related to Vermeer, especially since many of the maids of that era were reputed to have been looking, through the means of forming romantic trysts, for a way to escape the drudgery of servitude.
His other paintings of women that may lend some credibility to the implications of this theory are The Procuress which is set, perhaps, in a brothel, and shows a male subject in the picture exhibiting lewd behavior toward a female.
Girl With A Wine Glass is another such painting. Vermeer was only twenty-four when he painted "The Procuress" and paintings depicting brothel or "Merry Company" scenes were popular at that time.
Only Vermeer himself would know the true motivation for "The Milkmaid." He may have simply been paying tribute to those who experienced the day-to-day challenges of servitude and physical labor with a beautiful painting.
No stranger to hardship and struggle, he succumbed at the age of forty-three to his extreme and sudden decline in health, due largely to his insurmountable financial circumstances. He left behind his wife and eleven children in a state of debt.
Because his relatively few works were largely bought by a single, private collector as well as a small circle of clientele in his neighboring cities, his art did not get the exposure afforded to many other painters. Since he had no students, there was no one to carry forward his style and legacy and his paintings receded almost to obscurity until the end of the nineteenth century. Fortunately, for all of us, they have since been re-discovered. Two hundred years after his death, Jan Vermeer has become one of the most famous Dutch artists ever.