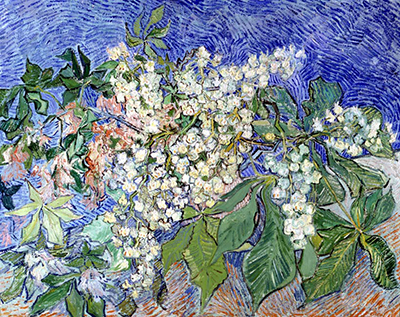 Buy Art Prints Now
from Amazon
* As an Amazon Associate, and partner with Google Adsense and Ezoic, I earn from qualifying purchases.
Painted in May 1890, after his release from the asylum where he had been recovering for about a year, this painting is something unlike the paintings that Van Gogh is best known for, offering a sweetness and lightness of touch lacking even in his other flower studies.
The background shades from blue into a hint of red, giving the impression perhaps of a point of view on the ground, looking up through the branches to a cerulean blue sky. The star shaped chestnut leaves are instantly recognisable while the flowers, so tightly massed together that it would have been difficult to separate them, even with a judicious and practised artist's eye, are a blur of white and pink that is never-the-less very pleasing to the eye of the beholder. Despite Van Gogh's deceptively simple, almost cartoonish, style, he was devoted to his art and drew prolifically, creating pencil sketches constantly throughout his life, many of them obsessive repetitions of poses, houses, characters and landscapes.
His pencil sketches are beautiful, depicting the people and scenes with a sharp observer's eye, rendering perspectives and proportions accurately and sympathetically. He was skilled at capturing moods and realistic scenes without the use of colour, drawing in pencil, red, black or blue chalk, charcoal and reed pens – occasionally mixing these utensils to achieve the look he wanted. Only after he had perfected his drawing, would he begin to transfer the image to canvas and oil, sometimes many years after the sketches or series of sketches had been completed. As he matured, Van Gogh began to introduce watercolours, first to add colour to his drawings and then, as he became more assured in the form, to produce paintings.
From there he dabbled in lithography – which is perhaps where he became enamoured of the form that brought his work close to pointillism, seeing the delicate cross-hatching with which shading was rendered – and on again into oils, where he became fascinated with mixing colours and capturing the exact shades that he could see or imagine. (This is when he made his error with his Sunflower paintings, using a modern and untested chrome yellow that was bright and sunny at first – it has aging poorly, reacting with light to discolour into a shade resembling olive green.)
Towards the end of his life, during the late 1880s, Van Gogh, following Gaugin's habit of painting from memory, began to produce more attractive works as he allowed his artist's eye to improve on the reality upon which he used to insist. This painting, 'Blossoming Chestnut Branches', is perhaps one of these, where the remembered sky is bluer, adopting Van Gogh's favourite bright blue, the ground is more ruddy, and the branches, leave and flowers – depicted with Van Gogh's typical style, with short lines and streaks of colour laid side by side in alternating shades – interact in a pleasing array that is both recognisably realistic and yet simplistically stylised.