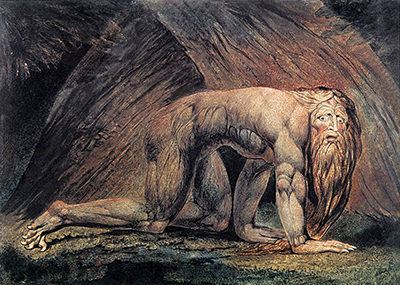 Buy Art Prints Now
from Amazon
* As an Amazon Associate, and partner with Google Adsense and Ezoic, I earn from qualifying purchases.
William Blake's art was influenced by the dissenters of his time, who opposed authoritarian religion. He held that while reason should replace laws in religion, God still had the last word on the matters of human beings.
This view is the central theme of Nebuchadnezzar, one of his most famous artworks. Nebuchadnezzar is a coloured monotype print with Blake's signature ink and watercolour additions. It was part of the large colour prints, a collection of twelve colour monotype prints. It exists in four copies, but only three are available, each at the Museum of Fine Arts, Boston, Minneapolis Institute of Art, and Tate Britain in London.
The painting illustrates the event in the Old Testament book of Daniel in the Bible. In this story, the proud Babylonian king, Nebuchadnezzar II, glorified himself for the great Babylon that he had built. To warn him of his impending danger, God sent him a dream prophesying that he will be driven out into the wilderness where he will "eat grass like an ox" for seven years to learn that "The Most High ruled in the kingdom of men." The prophecy comes to pass a year later when Nebuchadnezzar becomes wild and is chased into the wild, where he stays for seven years.
Blake's Nebuchadnezzar depicts the mad king crawling on all fours like a beast in a den of rocks. The king has nearly lost all human semblances, with muscle-like hairs on the torso. His nails have grown long and curved as vulture's talons. He also seems to have morphed into an amphibian, given his toad-like spots of unnatural hues of blue and green. Even though Blake depicts the chastised king as extremely animalistic, he leaves the impression that the image is of a man rather than a beast. The fact that Nebuchadnezzar's form and look changes because of his pride resonates with Lavater's theory, which Blake believed. It stated that evil acts deform a person.
However, it seems Blake sought to draw the attention of the viewer to the haunted eyes of the king. In his other works, Blake espoused the idea that reason is the only thing that sets man apart and above all other animals. Therefore, many people had concluded that this haunted face expressed the terror that struck the king when his reason came back, and he recognised his humanity. The fact that human nature is in the power of God is the central theme of this artwork. However, an understanding of other philosophies of the artist widens the interpretation of the work to explore the differences between humans and other animals.