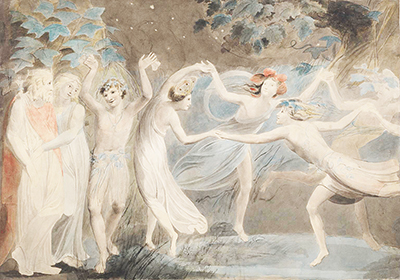 Buy Art Prints Now
from Amazon
* As an Amazon Associate, and partner with Google Adsense and Ezoic, I earn from qualifying purchases.
Oberon, Titania and Puck with Fairies Dancing was painted in 1789 and depicts the Fairy King Oberon and his Queen Titania watching on as the mischievous fairy Puck dances with the other fairies who appear in Shakespeare's famous comedy, A Midummer Night's Dream.
This whimsical watercolour evokes the ethereal nature of the nymphs and the magical forest setting where they dance. The fairies hold hands as they twirl in a circle, reminiscent of English country dances that took place ritualistically in Shakespearean England during the month of May. William Blake was a poet and printmaker as well as a painter. Oberon, Titania and Puck with Fairies Dancing shows the woodland creatures as carefree and wild, with Titania embracing Oberon tenderly and openly. Blake was a contemporary of feminist Mary Wollstonecraft and shared many of her views, namely the opinion that women should be able to marry for love, not just duty. He explores this feminist idea further in his 1793 poetic work, Visions of the Daughters of Albion.
In Shakespeare's famous comedy, the King and Queen of the Fairies have an intense relationship that almost ends in heartbreak, which may have appealed to Blake who initially had his proposal by his wife Catherine rejected. However, they did later marry and Blake trained her as his assistant, with their marriage and true partnership surviving the highs and lows that life would bring them. Oberton, Titania and Puck with Fairies Dancing is incredibly expressive and is filled with movement, laughter all under the gaze of soft, gentle moonlight. The painting typifies the luminous and dreamlike qualities of the Romantic movement, of which Blake is considered to be a member, along with other famous contemporaries such as Byron, Keats and Shelley.
Paintings during the Romantic movement are primarily focused on capturing emotion and Oberton, Titania and Puck with Fairies Dancing certainly evokes magic, love and the blithe spirit of dance. Unfortunately, Blake was not particularly successful as an artist during his lifetime. Instead, he was seen as rather quirky thanks his unpopular revolutionary political views and anti-Church of England stance. However, Blake has since been lauded as one of Britain's finest artists, with one modern day critic claiming him to be "far and away the greatest artist Britain has ever produced". Oberton, Titania and Puck with Fairies Dancing is housed at the Tate, London.