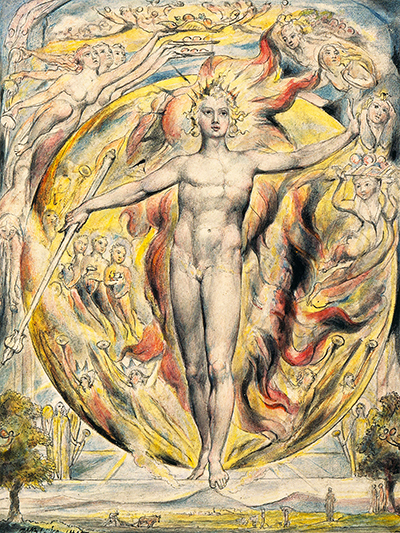 Buy Art Prints Now
from Amazon
* As an Amazon Associate, and partner with Google Adsense and Ezoic, I earn from qualifying purchases.
This is one of the timeless masterpieces created by William Blake. A demonstration of a young man standing inside a flame holding a stick. A sun god making an appearance. A revelation revealed. An illustration of Milton's L'Allegro.
The sun at the eastern gate presents a mythical theme. It symbolizes the break of dawn. The sun god appears to be making an entrance clothed in flames. He is surrounded by clouds in their liveries as Blake wrote in his explanation. Beneath him, as Blake further explained Milton walks by elms hillock green. The Plowman. The milkmaid. The mower whetting his scythe and the shepherd and his lass under a Hawthorne in the dale. These are activities that are usually done at dawn break. This masterpiece is an instance of Milton's vision of the sun peaked on etching and watercolor craft.
It is made from simple materials. A piece of paper, a pen, and watercolor. Yes, just that. That is all it took in addition to immense time and genius creativity. It is alleged that it was created between 1814 to 1820. Blake was such an influence. He gained a following from a group of artists and they called themselves the Ancients. They inducted his influence traversing generations. All this happened after he met John Linnell in 1818, a painter and an engraver. At the age of 25, William Blake was already a recognized engraver. There are other great artworks by William Blake done from graphite, watercolor, and paper. He was a master at expressing social and political scenes captured straight from fantasy and visions.
He also wrote poems that are incorporated in today's literature for instance "the marriage of hell and heaven." Just like everything has its origin, Blake's works come from different phenomena in his lifetime. He got inspiration from friends that he made in the art world. Milton, the key figure in his art, is featured in the sun at the eastern gate. Blake is trying to create the image on Milton's L Allegro. "Art is life, science is dead", this is one of William Blake's famous quotes on art. He strongly believed in art and he lived all his life through art. After all, he said it himself, its life.