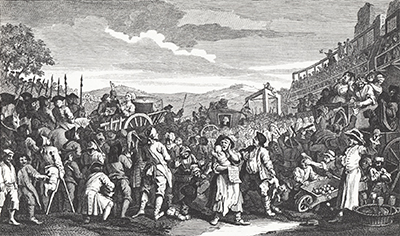 Buy Art Prints Now
from Amazon
* As an Amazon Associate, and partner with Google Adsense and Ezoic, I earn from qualifying purchases.
The Idle 'Prentice Murdered at Tyburn is part of a series of twelve engravings, known as 'Industry and Idleness', that were produced as a set by William Hogarth in 1747.
Little is known about the specific market Hogarth targeted with these engravings or prints, yet on the basis of their sale price, it appears likely that the intention was for them to appeal to a wider consumer base. Together, the twelve engravings form a linked plot, where one apprentice is idle and the other industrious, and each plate depicts the 'prentices at various stages of their lives. It appears likely that Hogarth intended the series as a salutary lesson for youngsters of the middle to working class. He once referred to the prints as being 'calculated for the use and instruction of youth.'
Each engraving was sold for a shilling each, which equates to perhaps ten pounds. These works were readily affordable, and in keeping with Hogarth's identity as a moralist whose principles were based on common sense rather than Protestantism. He was heavily influenced by two leading journalists of the mid-eighteenth century; Joseph Addison and Richard Steele, and the tenor of his work, like theirs, was often somewhat satirical.
For this set of prints, Hogarth has used pen, brown ink, and grey wash laid on paper. The Idle 'Prentice Murdered at Tyburn' depicts the idle of the pair of apprentices meeting the end of his life. Many features common to eighteenth century executions are visible, such as the coffin placed alongside the condemned in the carriage, the release of a pigeon to signal the carriage's approach, and a central figure holding aloft the last dying speech of Thomas Idle.
John Wesley the Evangelist appears beside Idle exhorting him to repent, whilst verses 27 and 28 of Proverbs Chapter 1 are etched beneath the picture. These verses serve to illustrate the forsaken nature of a man who has lived an idle life, whose doom cannot now be overturned. This engraving is the rather macabre culmination to the Idleness and Industry series, designed to produce a shock effect. The original piece is now the property of the British Museum.