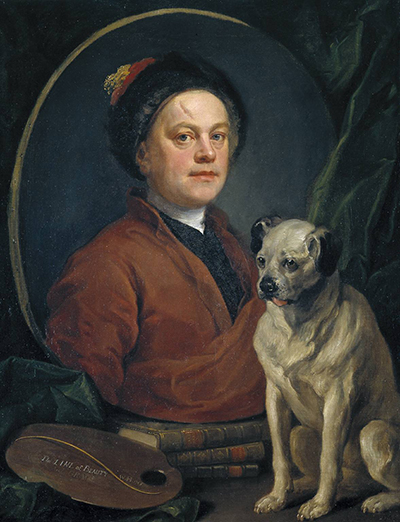 Buy Art Prints Now
from Amazon
* As an Amazon Associate, and partner with Google Adsense and Ezoic, I earn from qualifying purchases.
William Hogarth was a particularly important artist due to the innovations that he made around satire, which opened up a new genre within the art world. We can learn more about the man himself from the small number of quotes that have been uncovered from his own lifetime.
Famous Quotes by William Hogarth
All the world is competent to judge my pictures except those who are of my profession.
I have generally found that persons who had studied painting least were the best judges of it.
I have endeavored to treat my subjects as a dramatic writer; my picture is my stage, and men and women my players, who by means of certain actions and gestures, are to exhibit a dumb show.
I know of no such thing as genius, genius is nothing but labor and diligence.
I turned my thoughts to a still more novel mode... to compose pictures on canvas similar to representations on the stage... my picture is my stage, and men and women my players exhibited in a 'dumb' show.
I think it is owing to the good sense of the English that they have not painted better.
I had rather, if cruelty has been prevented by the four prints [The Four Stages of Cruelty], be maker of them than of the [Raphael] cartoons.
Simplicity, without variety, is wholly insipid.
Straight lines vary only in length, and therefore are least ornamental.
The serpentine line, or the line of grace, by its waving and winding at the same time different ways, leads the eye in a pleasing manner along the continuity of its variety.
Time is not a great artist but weakens all he touches.
Quotes about William Hogarth by Art Historians and Fellow Artists
Hogarth is viewed as the founding member of The English School, the dominant school of painting in the UK throughout the late 18th and early 19th centuries and the first distinctly native style that the country produced. His paintings drew on the French Rococo aesthetic but Hogarth added a layer of realism to his work which was innovative. This coupled with his ambition, popularity, and storytelling ability went on to influence the works of Reynolds and Gainsborough amongst others.

TheArtStory.org
William Hogarth FRSA was an English painter, printmaker, pictorial satirist, social critic, and editorial cartoonist. His work ranges from realistic portraiture to comic strip-like series of pictures called "modern moral subjects", and he is perhaps best known for his series A Harlot's Progress, A Rake's Progress and Marriage A-la-Mode. Knowledge of his work is so pervasive that satirical political illustrations in this style are often referred to as "Hogarthian".

Wikipedia
Hogarth began painting in 1727, soon producing life-size portraits and 'comic histories' such as The Rake's Progress and Marriage à-la-mode. An abrasive social commentator, he was appointed Sergeant Painter to George II in 1757. At a time when foreign artists flocked to London, Hogarth was concerned with the status of native artists, recommending that they seek inspiration from the infinite variety of contemporary human existence and advocating for the Englishness of English art. He wrote The Analysis of Beauty in 1753, which argued that shapes and colours in nature are geared towards 'entertaining the eye with the pleasure of variety.' His engravings were more highly esteemed in his time than his paintings.

National Portrait Gallery
Born in London in 1697, Hogarth went on to pursue a varied, controversial and consistently innovative artistic career. He is most noted for his 'modern moral subjects', which consisted of pictorial sequences satirising Georgian society and morality. Hogarth's impact has been long-lasting.

Paul Mellon Centre
Hogarth was supremely a social painter and London was his canvas.

Michael Billington
Best remembered for his intricate and satirical prints, Hogarth was a varied and prolific artist who mastered a range of styles and genres ranging from conversation pieces and realistic portraiture to grotesque caricature. He was the most significant artist of his generation and the first English-born artist to attract attention abroad. Hogarth invented the idea of a narrative series of prints, which told a story through a number of images, and he produced a significant number on "modern moral subjects" from prostitution to politics.

TheArtStory.org