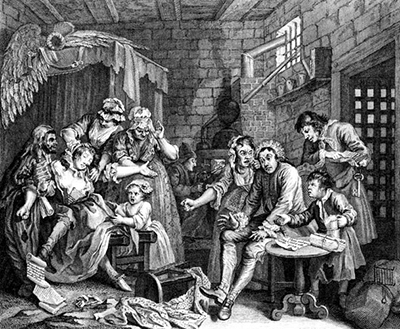 Buy Art Prints Now
from Amazon
* As an Amazon Associate, and partner with Google Adsense and Ezoic, I earn from qualifying purchases.
A Rake's Progress (1732-4) was a series of eight oil paintings that were preparatory works for engravings and prints portraying the downfall of the fictional Tom Rakewell.
The first, The Heir, introduces Tom after the death of his miserly father, paying off Sarah Young, a maid that he'd promised to marry, while others help themselves to treasures concealed around the room. The Levée charts Tom's rise as he entertains fashionable society in his new lodgings, where he is an easy target for those offering services with an eye on his inheritance; meanwhile, a musician playing a harpsichord is thought to be his rival, Handel.
The Orgy finds a drunken Tom at 3am surrounded by prostitutes at the Rose Tavern in London's Covent Garden. Two are stealing his watch, while at his side, a night watchman's lantern and staff testify to a wild evening. The Arrest, when Tom is left penniless, is only averted when Sarah Young, now a milliner, pays his bail. He is on his way to Queen Caroline's birthday celebrations at St James Palace, but a ragamuffin steals his gold-tipped cane and a lamplighter accidentally spills oil on his wig.
The Marriage shows Tom trying to hang on to an affluent lifestyle by marrying a rich older woman in Marylebone Church, while in the background, Sarah Young and her mother are kept outside. The Gaming House witnesses Tom losing his second fortune at Soho's White Club. He has also lost his wig, and sits distraught among other desperate gamblers, as the venue catches fire. Hogarth's own father had been imprisoned for debt, and the seventh picture, The Prison, sees Tom in the debtors' jail close to the filthy Fleet river, where his wife harangues him for wasting her wealth, and Sarah, visiting with their child, has fainted. Lastly, The Madhouse is the end for Tom as he languishes in Bethlem (or Bedlam) Hospital. The loyal Sarah weeps at his side, while two ladies visit as tourists.
The Soane family bought the series in 1802, and the paintings can still be viewed in Sir John Soane's Museum today. Influenced by the Italian and French styles, Dutch moralising pictures, and engravings (after training as an engraver), William Hogarth's prints were hugely popular in his lifetime and have continued to influence and inform, giving social historians a vivid picture of life at the time (his cartoons prove, for instance, that eighteenth-century London was multicultural). This universal tale led to other adaptions, with A Rake's Progress becoming a ballet and inspiring an opera.The work of English painter, satirist and cartoonist William Hogarth (1697-1764) provided social and moral comment on contemporary city life in the eighteenth century.