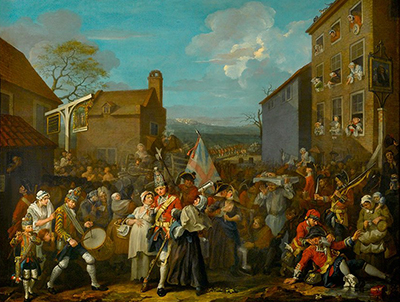 Buy Art Prints Now
from Amazon
* As an Amazon Associate, and partner with Google Adsense and Ezoic, I earn from qualifying purchases.
William Hogarth's painting, The March of the Guards to Finchley, also referred to as The March to Finchley, was created in the year 1750.
Hogarth was, at the time, one of the most popular and reputable painters in England. The painting is under the care of the Foundling Museum, located in London, in the United Kingdom. William Hogarth was famous for his satirical artworks during his era, and his painting, The March of the Guards to Finchley, is known to be the best painting that gave full scope to Hogarth's sense of satire. The artist himself delineated the portrait as 'marinated in hilarity.' Hogarth's painting, The March of the Guards to Finchley, was initially intended to be given to the existing King of England at the time, George II, as a present. Unfortunately, King George II felt offended by the seeming punch at his most excellent armed soldiers and turned it down when it was presented to him.
The painting [portrays a group of guards from the British army. It was inspired by the protection of the citizens from the 2nd Jacobite Rebellion. It has several individuals who depict a chaotic situation caused by a traveling army. Apart from the celebration of the victory of the army in question, the painting depicts the different vices that lie in society. The guard at the centre of the piece of art stands out from the rest as he is sandwiched by two women. One of them is pregnant while the other one is not. The pregnant woman symbolizes the pain and worries that women and abandoned children go through in society. The abandonment is a result of the roles of the guards as they fight to keep them safe in both the short and long-run. The other woman holds some printed propaganda and directs them to the guard in question.
Given the state of the painting scene, the gesture depicts the importance of the written information and propaganda in different situations. Another part of the painting shows a milkmaid being kissed by one of the soldiers, and during the process, one stills milk from her. Given this, it is clear that theft lies in the society even among the parties that are supposed to protect and enhance the security of the citizens. Given the chaotic situation, the soldiers depict an undisciplined nature as they embark in their merrymaking. The medium used in it is oil on canvas. The painting depicts a carefree mood where the soldiers are careless in their actions as they mingle with the available population.