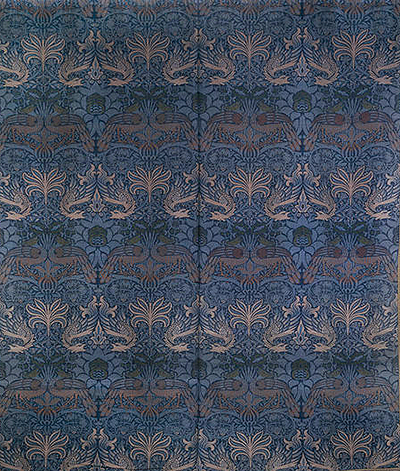 Buy Art Prints Now
from Amazon
* As an Amazon Associate, and partner with Google Adsense and Ezoic, I earn from qualifying purchases.
William Morris produced different types of textiles. He re-established the hand-blocked printings for his linen and cotton fabrics. Both printed and woven textiles he made. The latter was done using wool. He used wool to produce a wide range of tapestry weaves, which were then used for wall hanging, heavy curtains and upholstery.
Weaves were a combination of linen and wool or silk and wool. All his carpets were handmade. He then used naturally derived dyes to colour his fabrics. William Morris' fabric designs were a synchrony of stylish swirls of flowers, vines, and leaves. From afar, these designs could be instantly recognized. The current collection of his fabric designs feature both modern and original knitting of William Morris. Other than products like furniture and tapestry, Morris also focused on fabrics. In 1861, he established an arts company known as Morris & Co. Apart from textiles, the company also designed wallpapers, furniture, and tapestries. All these elegant creations were affordable and anti-elitism. Over the next decade, he still maintained a high rate in producing more designs. He added 23 woven fabrics, at least 32 printed fabrics and 21 wallpapers. He also came up with more designs for rugs, carpets, tapestry, and embroidery.
William Morris Worked Collaboratively
Combined efforts formed the decorative arts company. William Morris collaborated with, Marshall and six other partners namely: Rossetti, Burne-Jones, Webb, Charles Faulkner, Peter Paul Marshall and Ford Madox Brown. They referred themselves to as the Firm. They jointly adopted ideas of remodeling British attitudes to fabric production. These men yearned to improve the field of fine arts. Additionally, they employed boys from the Industrial Home for Destitute Boys in Euston in central London. Many of the boys were trained as apprentices. William also had a source of inspiration. He sought his motivation from different varieties of decorative artwork and cultures. He was also influenced and significantly used the medieval decoration style and other natural motives.
Overall Style and Methods Of Fabric Production
William is best known for his association with the British Arts and Crafts Movement. Their associated focused on reviving the traditional British textile arts and methods of production. Throughout his life, William was captivated by fabrics and the techniques he needed to master to produce the effects he saw and admired in historical furnishings. Some of his fabric production were:
Embroidery – This was William's 1st textile technique that he adapted for commercial purposes. It set the foundation for a set of more polished embroidered curtains and wall hangings. In the 1862's International Exhibition, one of the fabrics won him an award.
Printed Fabrics – His first printed fabrics was made in 1868 by Morris's company. These productions were copies from the 1830's white-ground chintzes. The first print was the Jasmine Trellis, which was a test for his 1st authentic fabric design.
Woven fabrics - The Tulip and Rose was the 1st woven furnishing fabric design by Morris. In 1876, the design was registered, and William considered adding it to his firm's range for some time.
Tapestries - Morris trained himself one of the noblest weaving arts. His set up of the tapestry loom was in 1877. His first completed piece was the "Acanthus and Vine" design. This piece's design was influenced by the "large-leaf verdure tapestries" woven in Flanders and France in the 16th century.
Floor and carpets coverings – In the mid-1870s, Morris began designing and outsourcing the machine production of floor and carpet coverings.
Artists Related to The Work Of William Morris
Anna Jane, the manager of the E17 Designers, reports that William Morris inspired most of her works. The two set out to create different pieces that reflected the actual code of the arts and crafts world. More specifically, all their combined works were inspired by William's works, life, and writings. Working together, they decided to individually do a figurative self-portrait with the name Forest Guardians. Each of them brought their individual accounts to this bit, with a precise focus on nature. The ornamental elements were significant to making the Forest Guardians self-sufficient. The two ensured that the pieces of works were loyal to William Morris' previous works and his repetitive use of nature in decorating patterns. From Ann Jane's testimonial, it is evident that William encouraged another artist to continue with the artistic work.