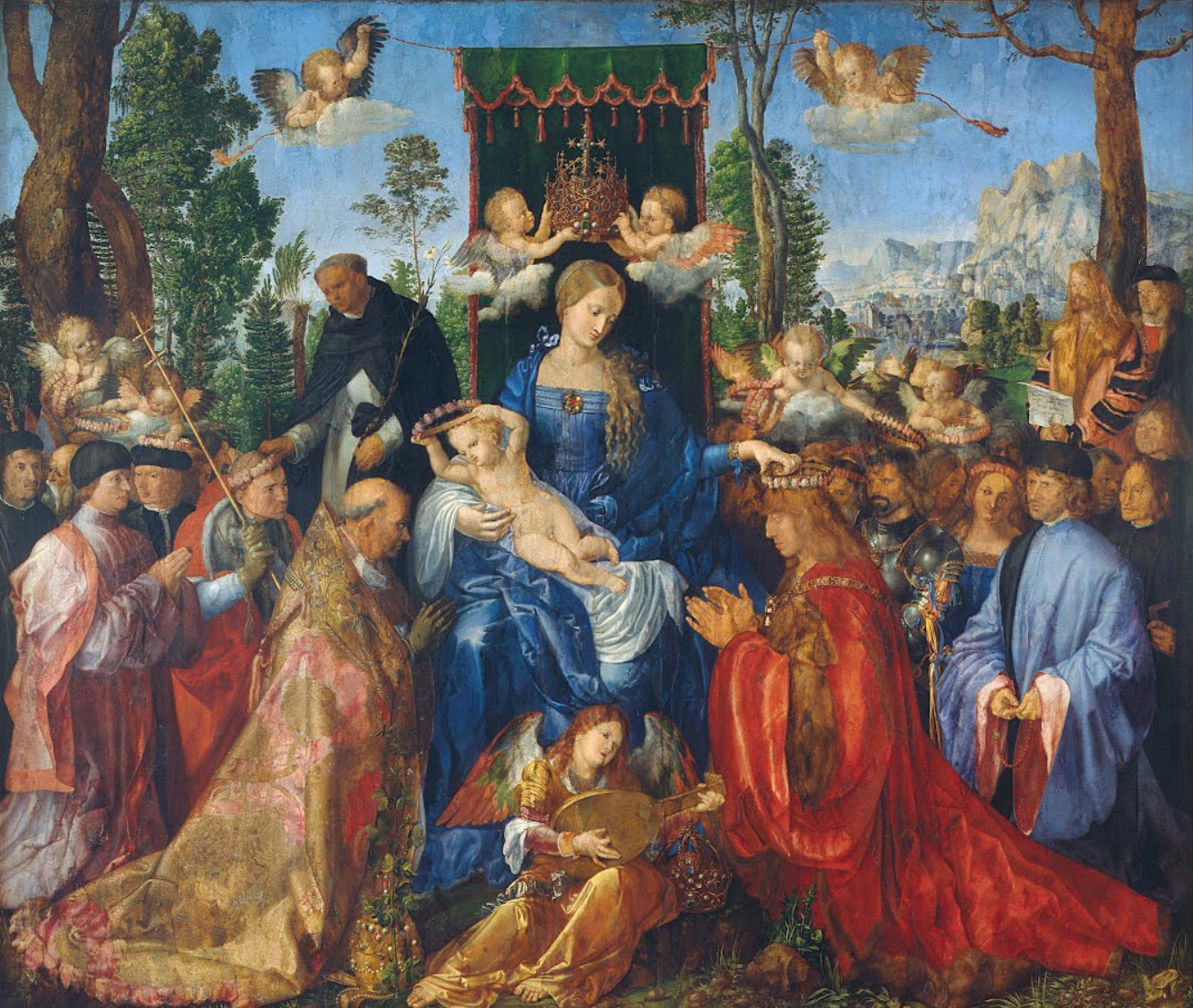 This stunning artwork from 1506 made use of mixed media on poplar and is considered by some art historians to be amongst Albrecht Durer's finest paintings of all
To consider this to be one of Durer's most important oil paintings is quite a claim, with this artist contributing around 800 artworks in total during his career. He also impressed in a wide variety of different mediums, more than almost any artist - including woodcuts, engravings and drawings.
There are many elements to this paintings that pay homage to the work of Italian artist Giovanni Bellini. This Italian artist starred in the 15th century, at a time when the Renaissance was just beginning to dominate the development of the Papal States of Italy. He was purely a painter, where as many at this time would take sculpture, drawing and architectural design and perhaps even invention into their portfolios.
There was a recent BBC documentary which included several Albrecht Durer paintings such as Feast of the Rosary and put forward a strong claim to suggest that the Renaissance did not entirely begin in Italy, but was purely a being of the European continent as a whole. We do not agree with this line of argument, but it is interesting to see how influential Durer's work is now considered.
This extraordinary work can now be found in the National Gallery in Prague, Czech Republic. This is a fitting location for such a wonderful painting, sitting alongside other famous paintings from across the ages of the art world. You will also find here, for example, the likes of Expulsion from the Garden of Eden by Peter Paul Rubens, The Maiden by Gustav Klimt, Lovers by Pierre Auguste Renoir, Adam and Eve by Lucas Cranach the Elder, Scholar at his Study by Rembrandt van Rijn and multiple paintings from local artist Alphonse Mucha.
Its arrival in Prague was initially from a private sale to Emperor Rudolph II who is believed to have paid 900 ducats in order to acquire it. Prior to this purchase in 1606 it had been on display in the church of S. Bartolomeo near the Fondaco dei Tedeschi. There was a considerable German influence in this part of Venice. Having bought this beautiful painting, Emperor Rudolph II placed it in his opulent residence in Prague itself. It was placed into the hands of the Czechoslovakian state in 1930.
Those who are fortunate enough to view the original artwork in its current location in the Prague National Gallery may be completely unaware of the poor condition that it has been at various points in the past few centuries. The most significant restoration was completed in 1662 after it had fallen into significant disrepair. The series of amendments that have been made since have been much less aggressive, tending to just ensure its ongoing health. Some of the later restorations are considered to have been completed clumsily and this painting is now as much of a story from the days when it first was created.
Three hand-painted copies of this beautiful artwork are in existence. Hans Rottenhamer created the most impressive version and the three are now spread across Europe. Copies would sometime be produced for financial gain whilst other artists would simply be looking to learn more about the techniques used in the original.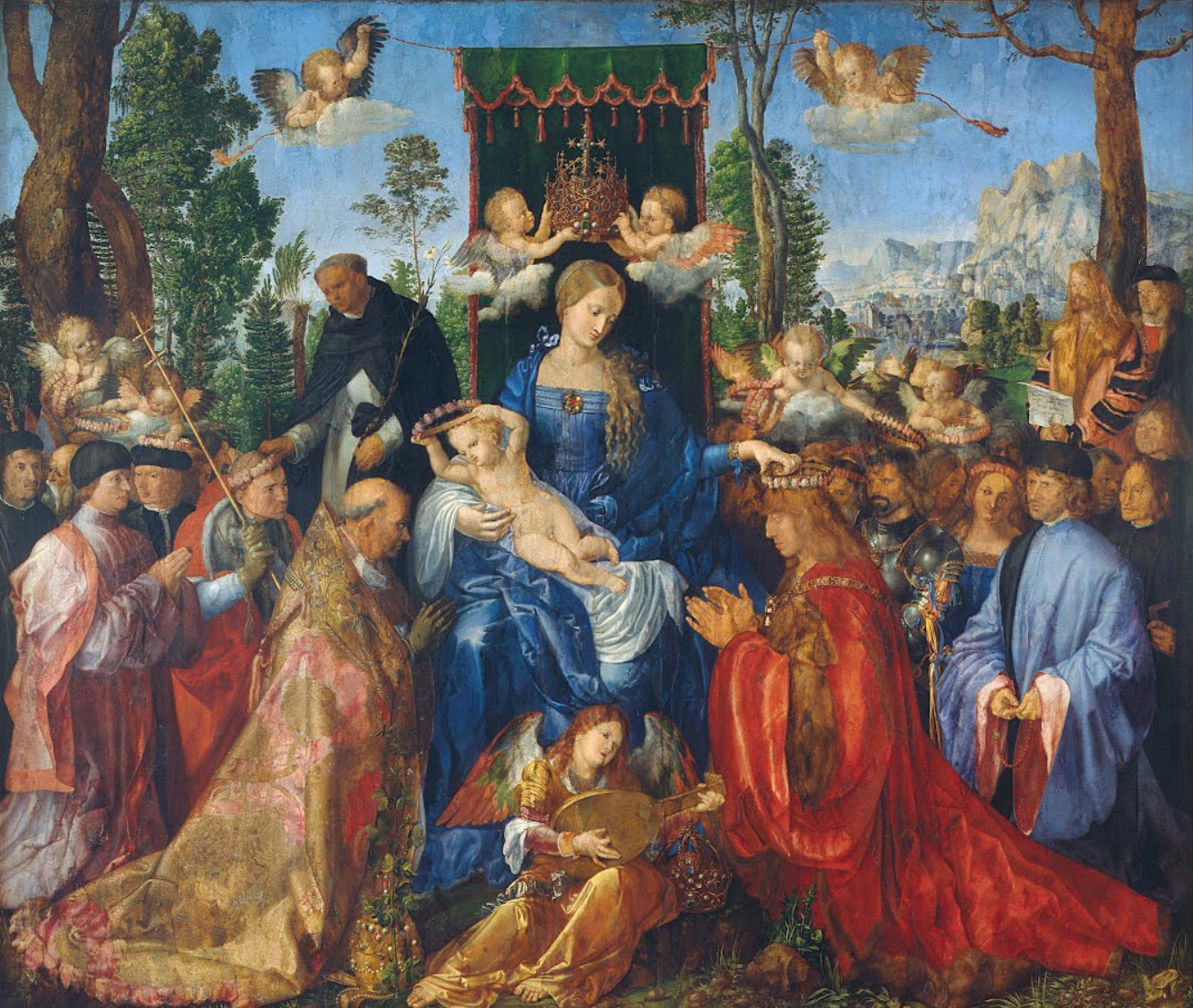 Artist Albrecht Durer would devote a considerable amount of work to this commission. It is believed that there were a total of 21 study drawings which covered different elements of the final composition. This sounds excessive, but the painting was complex and required plenty of thought and prior experimentation.
Durer would produce these study pieces over a two month period in early 1506. It is probably that he was also working on other projects at the time, considering his normal level of productivity. The majority of these study pieces were produced in the medium of pen and ink on azure paper which underlined an influence from his time in Venice.