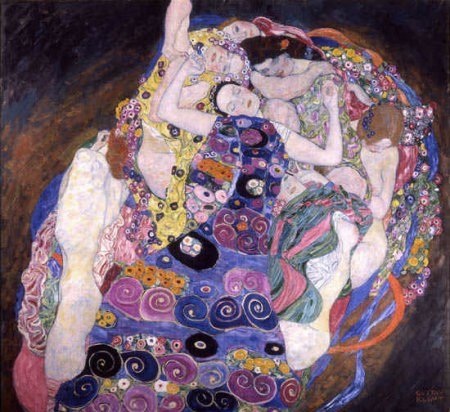 Buy Art Prints Now
from Amazon
* As an Amazon Associate, and partner with Google Adsense and Ezoic, I earn from qualifying purchases.
The Virgin painting dates back in 1913 by the renowned artist Gustav Klimt.
The style of the Virgin is Art Nouveau or Contemporary and the genre is symbolic painting. It is painted using oil on canvas. Its dimensions are 200 by 190 cm. The Virgin is also called the Maiden by other sources.
In describing the Virgin painting, maybe the sleeping woman in the centre is imagining opportunities for herself in the six women around her.
This is one potential way to report for the cloud like round shape group of women with scarves and gowns that have organic patterns, that is the focus of the Virgin painting.
The dressing gown of the virgin arranged with numerous curves symbolically shows fertility, continuous age and the continued evolution of the world.
During Gustav Klimt's lifetime, and later, there seems to always be instances of an eroticising purpose to make his art come alive again or even go further, like in the Virgin. Other writers have said that the show of sexual desire and pleasure can be considered as a social, political and cultural consistent force.
Therefore, Gustav Klimt is viewed as an artist who made a tremendous contribution to the setting free of women and the remembering of the lost impact of the erotic basis, a painter who was a renowned critic of his time and its outdated cultural morals.
An author, Han Bisanz, in 1994, said that the lasting achievement by Gustav Klimt is that he freed the artistic description of people from the shackles of morality and state of opportunism.
He also said that he brought out using his style, the essential description of a human being's life, pictures that show a timeless basis in the series of man's individual capacity.
Finally, as the quoted story seems to show, Gustav Klimt can be viewed as a mentalist, as one who studied psychological events and who chased similar purposes to those of his lifetime's contemporary, Sigmund Freud.
The Virgin is displayed in the Gustav Klimt Museum where all other Gustav Klimt's works can be viewed.