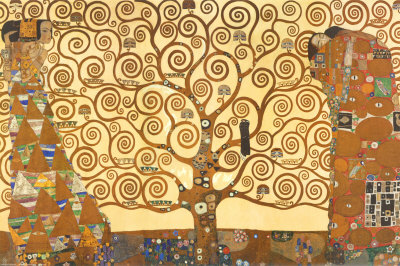 Buy Art Prints Now
from Amazon
* As an Amazon Associate, and partner with Google Adsense and Ezoic, I earn from qualifying purchases.
Tree of Life, 1909, is from Gustav Klimt's Golden Period and is amongst his most famous paintings, from a highly distinguished and productive career.
The painting continues the symbolic work of the artist, using a subject here which can be found in many areas of historic literature, representing life and growth in most cases. It is the elaborate flourishes of the tree's branches that make this artwork so memorable, and many unfamiliar with much of this artist's work still can instantly recognise The Tree of Life. It was around this period in his career (1909) that Klimt also produced Judith II, Lady with Hat and Feather Boa as well as The Kiss just previously. It was then that Klimt was at his most confident and experienced, happy to be bold with his work and this brought about his extensive use of gold paint.
The Tree of Life by Gustav Klimt is one of the most reproduced oil paintings in the modern day and this website discusses this famous oil painting as well as placing it into context within the career of Austrian painter Gustav Klimt. Alongside the information are links to where you can buy your own Tree of Life print from our recommended online retailer, Art.com who offer the best quality art reproductions available. The Tree of Life came about in 1909 but is a painting with such imagination and creativity that it still appears remarkably contemporary even now. The complexity and boldness of the painting makes it instantly recognisable and there are also several versions of it now available as prints, including the original, a detailed version, and also several darkened versions which have also proved popular. You can find examples of each of these included further down this page.
Gustav Klimt's paintings can now be found all over Europe and America with huge values now attributed to anything from his career. Indeed, it is very rare just for them to come up on sale. Fortunately many still reside in national galleries and museums rather than private collectors meaning the public can get to see them very easily, often for free. One downside of Klimt's success is that it is very hard to get to see all of his paintings in person now as they are dispersed across many countries and continents, making good quality reproductions an excellent alterative for those who love the unique style of his oil paintings. The Tree of Life was painted by Gustav Klimt in 1909 which was during a highly productive period for the artist. Lady with Hat and Feather Boa and Judith II (Salomé) were also notable paintings by the artist that came in this year, and they all followed on from Schloss Kammer on the Attersee I and The Kiss that had come just a year earlier. The career of Klimt ran from 1888 to 1918 but this as certainly his most important time as an artist.
The Tree of Life is traditionally a very popular topic for many religions who use it as a symbol of life and vitality. Klimt was inspired by this to create his own version of this iconic symbol, but very much in his own style and artistic direction. This version of the tree is exceptionally detailed with beautiful flourishes to every branch of the tree and a consistent curl at the end of each branch that leaves a suitably magical feel to it. The branches themselves contrast against the alternative style used by the artist to depict the main trunk plus the two characters who watch on from the sides of the painting. They are put together in a similar way to that of several other Klimt paintings, but the style of the branches, which are the main focal point of the work, are unique within his career.
Gustav Klimt has now become respected as an artist by academics and the public alike, who are charm by different elements of his work. Several landmark paintings have ensured his career will never stay out of the public eye for long and those who invest the time in researching deeper into his life's works are rarely disappointed. Klimt's sketches are lesser known than oil paintings such as The Tree of Life and The Kiss, but equally important and just as skilled. The links included above beside each Tree of Life picture offer a selection of reproductions such as framed and unframed art prints, posters, stretched canvases and tapestries of Klimt's original painting and make excellent additions to most homes because of the contemporary style of the 1909 work. This and Klimt's other classic, The Kiss, remain the two best known pieces of art to have ever come from Austria, and it is hard to see anything surpassing them in future years because of their status as major pieces with the history of European art.
Gustav Klimt is remembered for his complex and bright paintings which can light up a room just by themselves but beneath each of these paintings are some highly skilled illustrations which the artist is also well known for. Those who study his career in greater detail will soon be introduced to a wealth of impressive figurative sketches that he completed during his career, often as preparatory pieces for the better known paintings that followed. Besides The Tree of Life and The Kiss as mentioned within this site, Gustav Klimt's career produced many other fantastic sketches and oil paintings which we list below:
The Kiss
The Tree of Life, Stoclet Frieze
Water Serpents II
Portrait of Maeda Primavesi
Allee Im Park Von Schloss Kammer
Beethoven Frieze
Houses at Unterach
Field of Poppies
Schloss Kammer at Attersee
Judith
Bauerngarten
Field of Poppies
The Virgin
Death and Life
The Three Ages of Women
Portrait of Adele Bloch-Bauer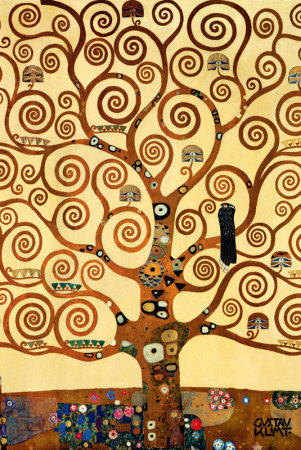 Tree of Life Prints are popular choices for those looking to buy art online for their own home and office walls and this website recommends good places that you can do this with confidence, as well as covering all the different types of Tree of Life prints in detail as these include the well known painting by Gustav Klimt as well as traditional religious works which can come in different art mediums such as standard giclee prints, stretched canvases, photographs and posters up to detailed tapestries.
Buy Tree of Life Prints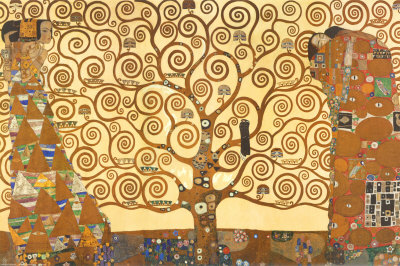 The Tree of Life Print by Gustav Klimt
Fine Art Print
Buy This Print Now from Amazon
Gustav Klimt's Tree of Life Print
Klimt's Tree of Life is one of his best known paintings from an exceptional career, with others including Stoclet Frieze, Water Serpents II, Portrait of Maeda Primavesi, Allee Im Park Von Schloss Kammer, Beethoven Frieze, Judith, Field of Poppies, The Virgin, Death and Life, The Three Ages of Women and the Portrait of Adele Bloch-Bauer.
The beauty of this painting is the colour and imagination that the artist uses making the final result an impressive, elaborate work which is flexible in different art mediums for those looking to add accurate reproductions of it to their home or office.
More Tree of Life Prints
The Tree of Life is also an important topic beyond Gustav Klimt, representing to many religious followers an important symbol within their belief system. As such, Tree of Life prints can also involve many other types of designs which you can find below in various forms. We include the major versions of this prints for the key religions for your interest and you may like to compare the different versions of the Tree of life that each religious group use. The indicate the slightly different meanings for each that exist in a bold and clear manner, making the Tree of life prints an excellent choice for those wishing to study and contrast the major religions which exist.
Many cultures and religions use the Tree of Life to portray how the elements of nature are linked to each other in complex chains and interacting combinations. History shows a huge number of varied uses across the world taking in the likes of Jewish (Hebrew Bible) and Christian religions, Germanic paganism, Norse mythology, Baha'i Faith, Ancient Egypt, Assyria, China, India, The Book of Mormon, Turkic World, Urartu, Mesoamerica plus many other modern and traditional cultures and countries.
Celtic Tree of Life
Art of Wales, Ireland and other Celtic influences have been seen with their own interpretations of this familiar topic, as shown below with one example of a Celtic Giclee print, of great quality. Celtic art has long interested followers because of it's familiar patterns and easily recognisable formulas which remind many of traditional British life at an earlier time.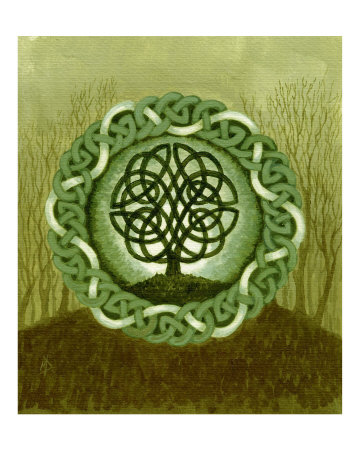 Celtic Tree of Life Giclee Print
Buy This Giclee Print Now from Amazon
Framed Tree of Life Print
For those with slightly larger budgets, framed art prints make a much better way to enjoy a classic painting in your home, because of the classier, more complete finish that it offers. Additionally, framed works are protected against damage over time which makes them last far longer in comparison. Our recommended art retailer offers a huge choice of different frames of all types of materials and in many sizes.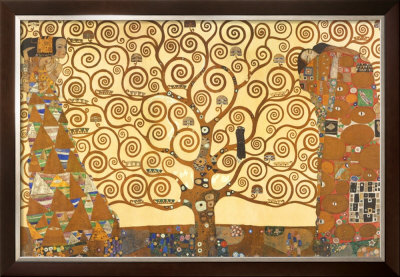 Framed Tree of Life Print by Gustav Klimt
Buy This Framed Print Now from Amazon
Tree of Life by Klimt with Darkened Detail
Some art followers prefer this version of the painting which may suit other homes with different colour schemes. Tree of life as a dark print interests those who find the original slightly overwhelming with it's heavy use of gold, but want to enjoy the elaborate curves and overall feeling of the work.


Tree of Life Darkened Detail by Gustav Klimt
Buy This Art Print Now from Amazon
Jewish Caballa / Kabbalah Tree of Life
In Jewish beliefs, the Kabbalah, sometimes spelt as Caballa, is a truly mystical symbol that many Jews used in the Kabbalah of esoteric Judaism which helped underline the crucial path to HaShem. There is a lot of crossover between different religions with regards this symbol including not just Jewish but also Christian and Pagan art.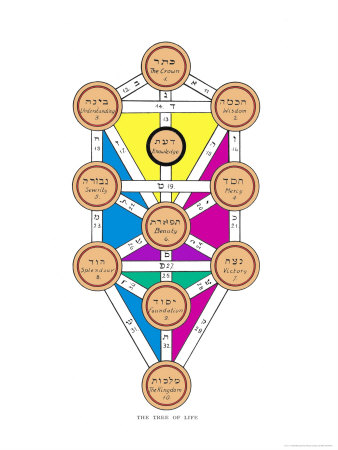 Tree of Life of the Jewish Caballa / Kabbalah by Gustav Klimt
Buy This Print Now from Amazon
Tree of Life Stocklet Frieze in Detail
For those looking to buy art for their walls there is often a need to go for a certain shape which may not match the original shape of the painting, meaning an adapted version is needed. Rather than stretching the original it is often a better idea to buy a slightly cropped or zoomed in version which is better suited to the new shape and sometimes offers a key area of the painting in greater detail than the original would do.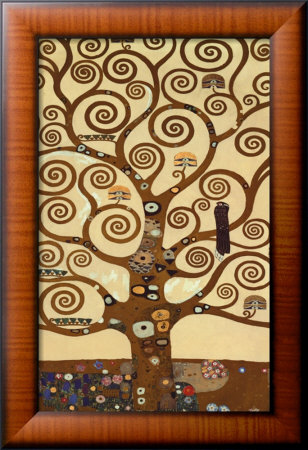 Framed Tree of Life in Detail by Gustav Klimt
Buy This Print Now from Amazon
Christian Tree of Life
Christianity features many of their own versions of this classic print, one of which you can see below with Christian figures used alongside the Tree to portray a symbolic scene from this popular religion. Christianity remains key to the history of the western world and so examples like this will continue to be common choices for those looking to buy prints for many years to come.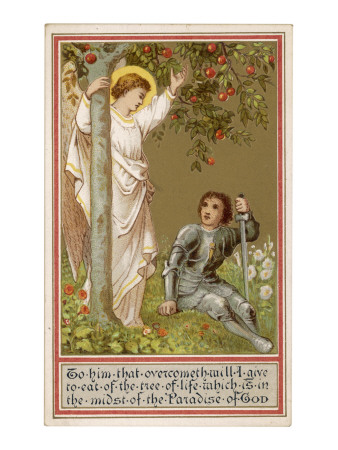 Christian Tree Of Life Print
Buy This Print Now from Amazon
Tree of Life Klimt Posters
All posters of Tree of Life also offer an excellent option for those looking to add the work to their homes but without costing much at all, with many sizes available.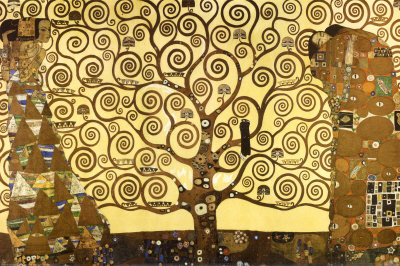 Tree of Life Poster by Gustav Klimt
Buy This Poster Now from Amazon
Tree of Life Tapestry
Besides Gustav Klimt's best works there are also other versions of the Tree of Life which can be found at tapestries offering great detail and a traditional form of art which many still enjoy. We include one example below but others are available too, just click through to see other available items to buy online.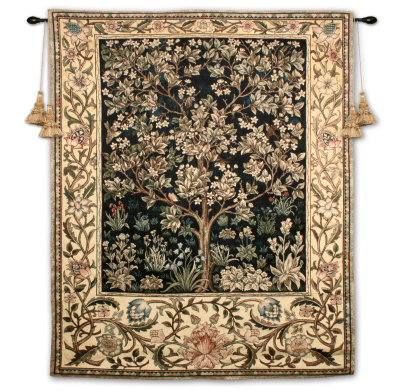 The Tree of Life Tapestry by William Morris
Buy This Tapestry Now from Amazon