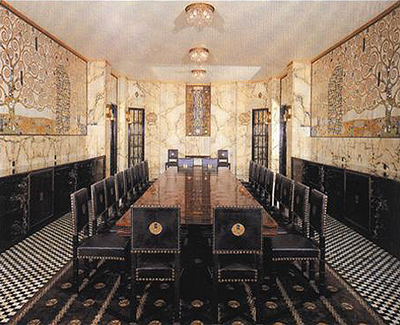 Buy Art Prints Now
from Amazon
* As an Amazon Associate, and partner with Google Adsense and Ezoic, I earn from qualifying purchases.
Stoclet Frieze was amongst the most ambitious of all of Klimt's projects - a series of three mosaics for the Palais Stoclet in Brussels
This set of murals marked a significant and highly rewarding commission for Gustav Klimt. The considerable project took him from 1905-1911, although he was active on other work during this time.
There are three mosaic panels, designed for the internal walls of the dining room in the Palais Stoclet, Brussels. The three main areas of focus here are the stunning Tree of life, a standing female figure (The Expectation) plus an embracing couple (Fulfilment) which itself is similar to The Kiss.
There is also a narrow, geometric artwork (Knight) which sits in the middle of the room, serving as a dividing line for the other larger murals.
Artist Klimt was given a full licence to be creative and bold, with his clients being passionate lovers of modern art styles themselves. This freedom enabled Gustav to use all manner of media for this series, taking in the likes of marble, ceramics and enamel along with several semi-precious stones.
It is rare for an artist to be given the opportunity to receive commissioned work whilst being allowed to take in very much in his own direction, which underlined how the artist's reputation and strong relationships had helped him to manage his career with greater control.
The Stocklet Frieze: an artificial garden at the heart of the house

— Anette Freytag on Stoclet Frieze
An artist only rarely has the opportunity to execute a work of art in which his imagination takes wing, his ideas become reality and his artistry is able to fully unfold. ...Amongst these houses, the Palais Stoclet gleams like a precious jewel of exquisite beauty amongst stones of lesser value.

— A.S. Levetus, 1914 on Stoclet Frieze
Unveiling of the Refurbished Palais Stoclet
On the 22nd of September, 1912, a selection of Belgian architects were invited for the unveiling of the renovated grounds. Their reaction was one of awe and excitement. One visitor exclaimed, "... I think i'm on the planet Mars!..."
Every element of this building had been carefully considered and designed, from the gardens outside to the intricate silver cutlery, to the Tree of Life frieze. Josef Hoffmann had been behind the overall plan and was asked to create a location worthy of the stunning art collection that would be displayed within it.
The three-part mosiac frieze from Klimt has been installed a year earlier and was intended to produce a magical feeling as visitors enjoyed their meals and socialising within the dining room.