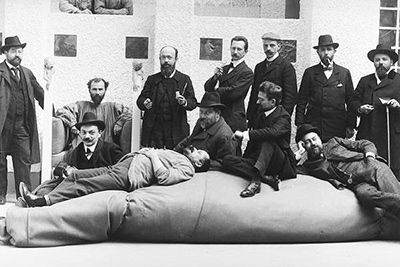 Buy Art Prints Now
from Amazon
* As an Amazon Associate, and partner with Google Adsense and Ezoic, I earn from qualifying purchases.
Gustav Klimt was a 19th century Symbolist painter from Austria who became a leading light in the Vienna Secession movement and became famous for his bold use of color, decorative patterns, and allegorical depictions of the human figure.
This innovative painter and draftsman would cover scenes of love and sexuality within his work, with a particularly strong focus on female figures from Viennese society. Their decorative clothing would be constructed from elaborate arrangements of patterned shapes, with gold leaf paint often incorporated into these bright and uplighting scenes.
Klimt would also capture the beauty of this European region, with detailed city scenes alongside flowing rivers and abstract, uniquely composed scenes of forests and gardens. The early 20th century was an exciting time for European art, and the likes of Klimt provided the impetus to that, with the Vienna Secession forming an important part of the wider Art Nouveau movement.
In touching on themes such as sexuality and graphically depicting the naked body within his work, the artist would inevitably come in for criticism, at what was a relatively socially conservative time in the early 20th century, as compared to the present day. The artist's response was to double-down on this approach, but to avoid public commissions, enabling him a greater freedom once his financial future had been secured.
This would lead to his golden phase, in which some of the highlights of his career would appear. Alongside his signature paintings was also a whole series of technically impressive portrait drawings which provided the backbone in technical skill that lay behind all of his success in more complex mediums.
Early Life
Gustav Klimt was born on the 14th of July, 1862 in Linzerstraße 247, Baumgarten, which lies in the district of Vienna. His birth place, a one-storey house, survived until the 1960s, at which point it was replaced with a series of apartments, but a small plaque was erected to mark the arrival of this significant European artist.
His parents, Anna Klimt and Ernst Klimt the Elder, would have seven children in total, which was common for the period. Gustav's mother had a musical background, whilst his father was a gold engraver, which enabled their talented young son to receive all of the support and technical backing that he needed in order to succeed as an artist.
That said, he could not be described as having come from a wealthy background, and Gustav realized that in order to follow his dreams, he would need to generate an income from his work fairly early on in order to finance his further studies and artistic education.
The young teen enrolled at the Vienna Kunstgewerbeschule, later known as the University of Applied Arts Vienna, where he studied architectural painting from 1876 until 1883. This period of education would influence some of the early work that he produced as a professional artist, as he completed a number of decorative murals for various donors.
His brother, Ernst, studied alongside Gustav and was highly skilled in his own right. They banded together with another colleague for their class to take on some early commissions, feeling more confident as young artists in a group, than attempting to start out on their own. They were fortunate enough to earn some notable commissions for a number of prestigious institutions in Vienna, sometimes working alongside one of their teachers, and sometimes by themselves.
The locations in which they worked included the Burgtheater and Kunsthistorisches Museum, where large murals were needed to decorate the huge walls found in these traditional buildings.
As a mark of the group's early success, Gustav Klimt received the Golden Order of Merit in 1888, whilst still only in his mid-twenties. He also received awards from the University of Munich and the University of Vienna in gratitude for his impressive murals which had also helped the artist to spread his reputation into influential circles.
Just a few years later the artist would sadly lose his brother and father, and this forced him to re-evaluate his artistic direction, as well as his life in general. Gustav would now be working to support several families as a result of these tragedies and was under even more pressure to turn his creative talents into financial gains.
Much of the rest of his career would, therefore, be around balancing creative freedom with commercial success in order to satisfy his integrity as an artist with the considerable responsibilities that had fallen upon him.
Mature Period
Gustav Klimt helped form the Vienna Secession in 1897 and was immediately installed as its president. Whilst indicating their preference for art in a periodical, this was an inclusive collection of artists who embraced a number of different styles within their informal organization. Their main ambition was to promote groundbreaking artists who were not part of traditional movements, or for any other reason were not receiving the exposure that their talents deserved.
By spending time in the company of other innovative artists, including Naturalists, Realists, and Symbolists, Klimt's own style would become even more cutting-edge, leading to some criticism from more traditionally minded members of the art establishment.
The 1890s to 1900s marked a prolific period for the artist. His landscape scenes inspired by a number of summer holidays would bring an extra dimension to his oeuvre, whilst he also moved towards his golden phase, which contains many of the highlights of his career. There was more work for the Great Hall of the University of Vienna, though as he continued to court controversy, the artist decided to avoid public commissions from that point onwards.
It is now that his signature approach of stunning portraits with gold leaf paint would start to appear, and the artist's reputation was fully established by this point, allowing him more freedom within his work. The likes of Judith I (1901), Beethoven Frieze (1902), The Three Ages of Woman (1905), Portrait of Adele Bloch-Bauer I (1907) and The Kiss (1907–08) would appear during this impressive phase.
Personal Life
Towards the end of his career, certainly across the last two decades, Gustav Klimt would shy away from public life, preferring to focus only on his family and closest friends. This also enabled him to throw himself into his art and work without creative interference. He was financially secure by this stage, and wanted to only create art that appealed to him, rather than concerning himself with what was commercially-viable, or might upset his donors.
He had dated Austrian fashion designer Emilie Louise Flöge for much of his life, and as was suggested by his paintings, was a deeply sexual individual. He is believed to have fathered fourteen children during his lifetime, but any misbehavior was carefully hidden away in secret.
Death
Gustav Klimt died on the 6th of February, 1918 at the age of 55. He passed away in his beloved Vienna and had suffered from a number of complications related to the outbreak of Spanish Flu which had spread all across the continent that year. He was buried at the Hietzinger Cemetery in Vienna, and sadly had lost his mother just a few years earlier.
Legacy
The legacy of Gustav Klimt is perhaps most significant by the popularity that he enjoys with the public, rather than any specific influence that he had on future generations of artists. His original artworks command extraordinary market valuations today, and exhibitions of his paintings continue to be as widely attended as almost any historical artist.
Venice continues to promote their famous son through its impressive selection of art galleries and museums, and occasional loans abroad enable his reputation to continue to spread into other regions. His style, as well as the wider Art Nouveau movement, seem particularly well regarded online in the 21st century, helping to bring his work to the attention of younger generations all across the world.
In terms of bringing about artistic change, Klimt's oeuvre was part of the much wider push towards modern art during the Art Nouveau era. This encompassed the Vienna Secession, alongside many other European movements and took in all types of art, which was suited to Gustav Klimt who mastered several different mediums. The Viennese artists encouraged a movement away from traditional art forms, and Klimt's own contributions were amongst the most memorable of all.