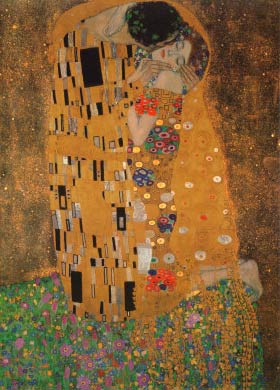 Buy Art Prints Now
from Amazon
* As an Amazon Associate, and partner with Google Adsense and Ezoic, I earn from qualifying purchases.
The Kiss was completed by Gustav Klimt in 1908 and famously captures an embracing couple in gold leaf paint
Measuring 71 by 71 inches, this famous painting features a man leaning over a kneeling woman. The background of this artwork features the typical patterned approach of Klimt with a busy arrangement of flowers ensuring that each and every area of the canvas is considered.
The Kiss shows only a small part of the two lovers as visible, with most of their bodies wrapped up in colourful material which symbolises the erotic love that they both felt. The detail found here as well as across the background makes this a visual feast with endless amounts to enjoy, as with so many of this artist's work.
The Österreichische Galerie Belvedere in Vienna, Austria hold this notable work from what is referred to as the Gold Period. During this time Klimt would use a lot of gold leaf paint to lift his paintings up to a new level. This boldness helped him to differentiate his work from others and is also why his career remains so memorable right up to the present day.
Art Collectors' Guild produced this informational video on the artwork here.
The Belvedere contains the biggest collection of original Gustav Klimt paintings to date, making it a prized spot for the artist's fans and one of the major destinations for followers of 20th century art in the world. There are currently 24 artworks from his career on display here, including the likes of The Kiss, Judith, Avenue to Schloss Kammer, Sonja Knips, Adam and Eve, Cottage Garden with Sunflowers and Water Serpents I.
Besides Klimt, the Belvedere also holds works by other members of the Viennese Secession, such as a 1916 self-portrait by Koloman Moser. Other contributors to this movement included Josef Hoffmann, Joseph Maria Olbrich, Max Kurzweil, Josef Engelhart, Ernst Stöhr and Wilhelm List.
Klimt's Golden Period, of which this painting is the pinnacle, is believed by many to have been inspired from the artist's trips through Italy several years earlier. Amongst the locations of his visit was the city of Ravenna which continues to hold an impressive collection of mosaics from the Byzantine period.
Jan Theodor and Fernand Khnopff were also influential on Klimt through their symbolist styles which came from the Netherlands and Belgium respectively. Several earlier pieces show Klimt starting to use gold in his work whilst building up to the visual feast which was to be The Kiss.
This artwork was purchased even before the artist had fully completed it. The sale to the Austrian Gallery underlines how it was much less controversial that some of his other paintings, and the speed with which is was snapped up indicates how the painting struck a chord with the Austrian public and academics alike.
The Kiss by Gustav Klimt is a classic oil painting from the 20th century and this website is devoted to Klimt's work which is considered possibly the finest painting to have come from any Austrian painter. In the modern day, The Kiss is within the top ten of most popular painting and also is regularly reproduced as a copy of the original in all sorts of media, such as giclee art prints, handmade oil paintings, stretched canvases and posters.
The Kiss has a romantic feel with two lovers who are accompanied by the incredibly bold artistic style of Klimt who added gold leaf paint into most to add a highly stylish finish to his paintings. Gustav Klimt followed a similar style throughout his career after his initial period in his early days as a developing artist and quickly discovered a style that both proved successful within the mainstream Austrian art world, and also was satisfactory to Gustav in terms of his own artistic development.
The Kiss and Gustav Klimt both hold great importance within the art world and have both been greatfully embraced by mainstream art fans who have placed this artist amongst their most prefered. Gustav Klimt's bold use of gold leaf paint as well as the romantic scenes which he regularly depicted were two of the reasons which helped to make and keep him as a household name right across Europe and the rest of the world.
We believed that the qualities shown in this particular painting and the interest which is shown in it right across the world meant it was worth it's very own website devoted to bringing you interesting information about this classic, and so we set up Thekissgustavklimt.com. We have received great amounts of feedback in the years since we set up this website and it is highly pleasing to see so many others discover the work for the first time just as we had done.
Gustav Klimt undeniably is the most respected artist to have come from Austria, and the nearest artist to him would probably be Schiele who was across the border in Germany a few years later and had a similar style to Klimt. Schiele was similarly skilled as an illustrator and would produce both simple pencil sketches and more colourful and elaborate oil paintings as well. Both liked to produce portraits of women as well, with Klimt's reputation remaining stronger in the present day.
The Kiss has been taken as inspiration for many artists who have produced their own versions of this classic, but it is Klimt's which will always remain as the first choice and offers an entry for many into his overall career where many other exciting paintings can also be found with a small amount of research. After being drawn in by this painting most also then appreciate the likes of The Tree of Life, Waterserpents II and Mother and Child.
The Kiss was originally called Der Kuss which reflects Klimt's upbringing in Vienna where he quickly established a reputation for himself as a creative young artist who held great ambitions for the future, and these were mostly to be achieved. Klimt managed to get customers of both fortune and power which helped him to build up an impressive array of past work as well as financing his own life in Austria.
'Der Kuss' to give it it's original name, features stunning lovers intertwined with the background and amidst exceptionally complex patterns which can also be seen in several other paintings from this artist. Waterserpents is a relatively similar piece but does not have the same connection through a scene of two lovers as Der Kuss did. Once a painting becomes well known invariably those in the mainstream will embrace it and rarely look further into art history to discover more of the same.
The colours and style found within The Kiss original makes it best served as a framed giclee art print for those looking to add a reproduction copy of it to their own home or office wall. Alternatively, you might consider buying it instead as a large scale poster, a stretched canvas or even a wall mural. The links included throughout this website take you to the Art.com online store which holds a great selection of high quality Gustav Klimt reproductions.
Gustav Klimt was much loved as an artist for the intricate detail that he managed to put into most of his paintings, and typically he would use huge canvases in order to give him enough room to add detail even across the sprawling backgrounds that often incorporated pretty arrangements of bright flowers. The Kiss has a similarly complicated series of flowers plus also imaginative patterns on the clothing of the two lovers around which the painting is based.
The Kiss is amongst the most reproduced of all paintings which is an extraordinary claim to fame considering the wide ranging tastes which now exists right across the world thanks to the increased communication that enables even lesser known artists to obtain huge exposure in just a few hours, if they have something that will genuinely interest the masses. Within the modern era, once a painting becomes respected it's exposure within the media almost guarantees it's reputation will remain strong for many years to come.
All the links included within Thekissgustavklimt.com will take you through to Art.com where you can buy your own reproduction copies of original Gustav Klimt paintings, with the most popular including The Kiss and The Tree of Life. In most cases people choose Klimt's originals as framed giclee art prints, posters and stretched canvases as they generally best suit contemporary homes and are also very competitively priced at Art.com who we happily recommend ourselves.
List of Famous Gustav Klimt paintings
Please see below for a summarised list of the best Gustav Klimt paintings that are featured throughout this website.
Beethoven Frieze
The Kiss
Adele Bloch-Bauer I
Judith and the Head of Holofernes
Avenue in Schloss Kammer Park
Danaë
The Friends
Mäda Primavesi
Mulher sentada
Tree Of Life
Virgin
Death And Life
Pallas Athene
Mother And Child
Water Serpents II
Farm Garden
Dancer
Johanna Staude
Music
Forest Birch Trees
Adele Bloch-Bauer Portrait II
Goldfish
Three Ages Of Woman