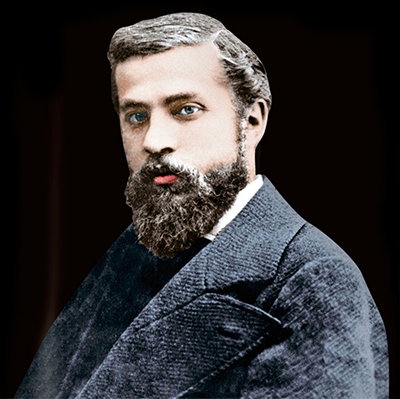 Buy Art Prints Now
from Amazon
* As an Amazon Associate, and partner with Google Adsense and Ezoic, I earn from qualifying purchases.
Antoni Gaudi, living a student life in Barcelona studying at the Convent del Carme, planned to study architecture at University. As preparation for this, he attended preliminary courses at the Provincial School of Architecture and two compulsory courses at the College of Science.
To pay for his education his father sold part of the family property, and Gaudi supported himself by working for various Barcelona constructors. In 1873, Gaudi entered the Barcelona Higher School of Architecture where, besides architecture, he studied history, French, philosophy, economics and aesthetics. Although his studies gave him a solid architectural knowledge-base, he was not a model student, he sometimes preferred the library to lessons, and he was also a working man.
During his university years, he worked as a draughtsman for several Barcelona constructors, in particular with Josep Fontseré on the Ciutadella Park project and the Born Market. His university studies suffered: his results were mediocre. But, now and then, a brilliant project or a sublime drawing would give of hint of the genius inside. One example is the design project for the patio of the Barcelona Provincial Council, where Gaudi excelled. Another curious episode involved the design and drawing of the gate for a cemetery. Gaudi drew an intriguing, atmospheric scene, with a hearse and solemn mourners to define the setting, which greatly impressed his teachers. However, in this project, he failed: he had omitted the gate!
In February 1878, Elies Rogent, the director of the Barcelona Architecture School (Escuela Técnica Superior de Arquitectura) sent the transcripts of Gaudí's work to the rector of the University and, in March, Gaudi was officially awarded his degree in architecture. The director's comment was: "We have given this academic title either to a fool or a genius. Time will show." Gaudí, who had always considered himself an architect, ironically remarked to his friend, the sculptor Llorenç Matamala: "Llorenç, they are finally saying I'm an architect."
Military Service
During Gaudi's university years he completed his compulsory military service (from 1874 to 1877). On July 7, 1874, at the age of 22, he enlisted. He was assigned to the Armed Infantry Regiment in Barcelona as Assistant Military Administrator. His health was poor and he spent much of his military service on sick leave which enabled him to continue with his studies. Although he saw no combat, at the end of the Carlist Civil War (1872 to 1876) he was declared Benemérito de la Patria ("Glorious Son of the Motherland"). Sadly, during this period, both his mother and his brother died (1876).
First Projects
Upon graduation in 1878, the neo-architect was not short of projects: he designed lamp-posts for Plaça Reial in Barcelona; he worked on the Girossi news-stands and the Workers' Cooperative building of Matarò. He started to become known after his first important commission: the Casa Vicens. 1878 also saw the start of Gaudi's important collaboration with Eusebi Güell.