Introduction
To see a female figure lifted into the air by men within the career of Artemisia Gentileschi should not surprise us. Not only was she proud of her own gender, but she also regularly promoted women within her work. She often took existing themes found elsewhere in Baroque art, but re-imagined them in a manner which better promoted some of these women from mythology and religion.
In this case, though, Galatea had already been lifted into the air a century earlier by the great Italian master, Raphael. She was, therefore, not being quite as groundbreaking in this piece as in others, but her technical contribution here is still highly impressive. The qualities of this work are not lost on the public, either, allowing the piece to recently receive amongst the highest purchase price of any artwork in her oeuvre.
The Story of The Triumph of Galatea
The Triumph of Galatea is perhaps most famously depicted by Italian Renaissance artist Raphael, whose own contribution came much earlier in circa 1512. There are some similarities between this piece and Gentileschi's, at least in terms of composition, but the artistic style they used differed substantially.
As we delve into the story of Galatea, many aspects of this painting will become clearer. She was known as a sea nymph, explaining the sea shells dotted around underneath her. Galatea the name also translates roughly as being milky-white in complexion, which is again reflecting in this painting by Artemisia Gentileschi. She was one of the fifty daughters of Nereus, as discussed by Homer and Hesiod, and she is also mentioned in Ovid's Metamorphoses.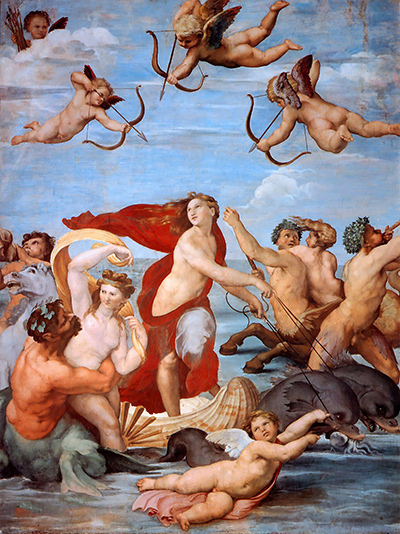 The Triumph of Galatea by Raphael Sanzio
Description
Within this piece, we find Galatea lifted into the air, surrounded by shell-shaped constructions that remind us of the original Raphael work. A figure to the left trumpets from a shell or conch himself, as if celebrating a recent victory. A plethora of other figures surround Galatea, appearing to be protecting her, and looking out for any dangers that existed close-by.
In the distance, and perhaps where the role of an additional artist may have come in, is a beautifully green landcape with trees and healthy green fields sitting below a light but slightly cloudy sky. Galatea herself is noticeably lighter in tone than her male colleagues, suggesting a purity of mind, but also underlining her importance within the story of this painting.
Whilst many similarities can be drawn with the content found within Raphael's version, he himself was replicating elements of the original story in his own piece, and it is possible that Gentileschi's inspiration actually came from elsewhere.
Auction
Artemisia Gentileschi's The Triumph of Galatea was sold at Sotheby's Auction House in New York for $2,130,000 on the 15th of October, 2020. This far exceeded its original estimate, which was more in the region of $1m - 1.5m. Interest in her career has grown considerably over the past few decades, matching a wider interest in famous female artists from the past, who have perhaps been underestimated in previous centuries.
Large Image of The Triumph of Galatea
This large and detailed artwork is included below in far greater detail. Considerable research has been completed into the piece relatively recently, which allows us to understand much more about the individual elements of the composition, as well as the piece as a whole. It is a welcome addition to the artist's oevure, having gone undocumented for a long period after her death.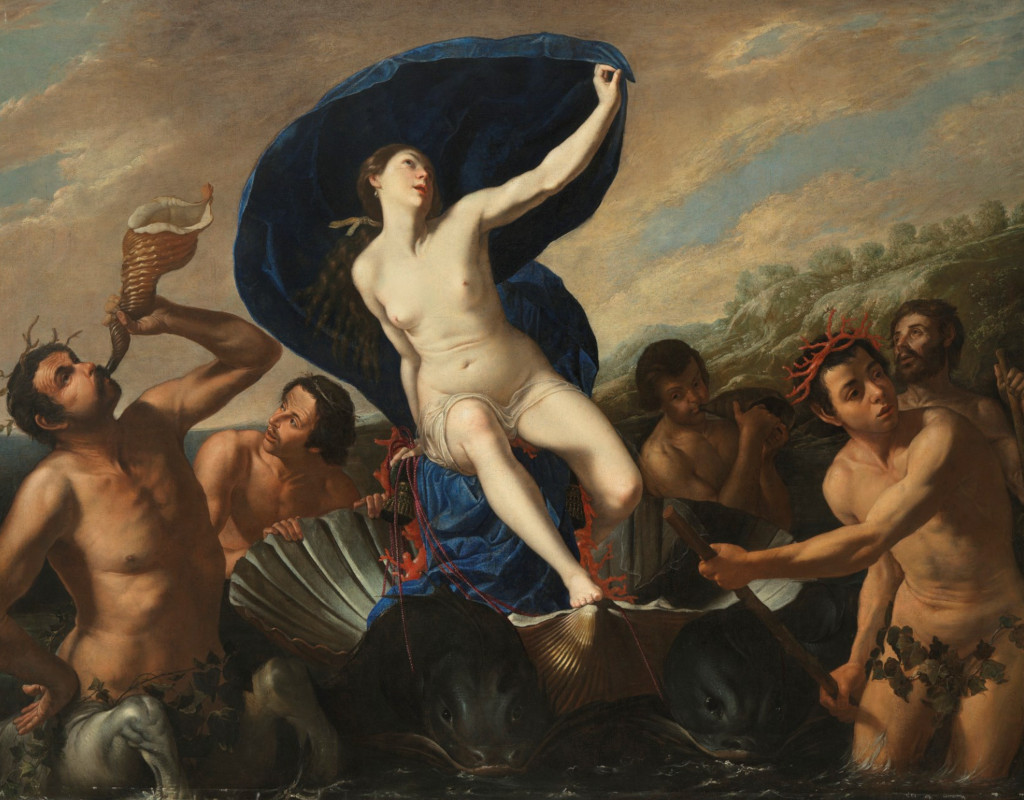 The Triumph of Galatea