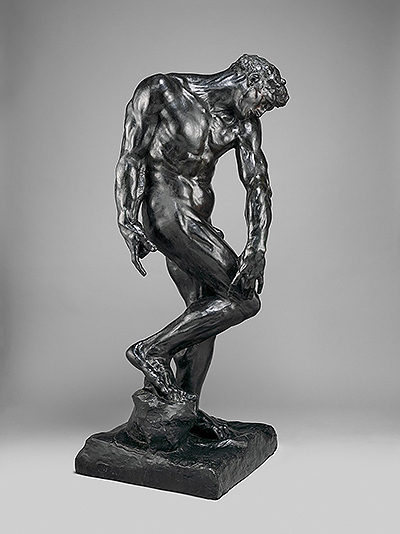 Buy Art Prints Now
from Amazon
* As an Amazon Associate, and partner with Google Adsense and Ezoic, I earn from qualifying purchases.
Adam is one of the most famous artworks of Auguste Rodin. This is a statue of Adam sculpted between the year 1880 and 1881, and its first exhibition was at the Paris Salon under the title The Creation of Man.
Adam is a fine artwork with overall dimensions of; 76 3/8 × 30 3/8 × 32 1/2 in., 831 lb. (194 × 77.2 × 82.6 cm, 376.9 kg). This artist employed the use of Bronze and copper alloy as the type of material in the designing and sculpting of the Adam statue. That very same year, Auguste Rodin was commissioned by the Ministry of Fine Art in France to design two enormous statues of Adam and Eve. For Adam's artwork, he drew all the ideas from the Creation of Man piece while creating a separate one for Eve.
The casting of Adam by Auguste Rodin artwork was first seen in 1910 and today; there are Bronze casts of this piece in Musee Rodin, Metropolitan Museum of Art among many other museums. Auguste Rodin was with no doubt influenced by Michelangelo's work from which he learnt many secrets to do with modelling and sculpting. Rodin's direct experience of the Renaissance master's art together with his tours around the Musee du Louvre in Paris in 1875-1876 armed him with many of Michelangelo's skills and techniques of designing and modelling. The posture of the colossal Adam statue together with its title conforms with some of Michelangelo's sculptures.
While designing Adam, Rodin incorporated some gestures from Michelangelo's work. For instance, the right arm of Adam hits that it was drawn from Michelangelo's Creation of Adam in the Sistine Chapel fresco in the Vatican, the left arm was adopted from another one of Michelangelo's work known as the Dead Christ of the Pieta in the Florence Cathedral. According to the statue, Adam is seen pointing his fingers on the ground; an aspect Rodin used to portray Adam's emphasis in the bond between him and the earth. According to Albert Elsen, Rodin's scholar, the statue represents a tormented being suggesting it was framed by the start and end of life.