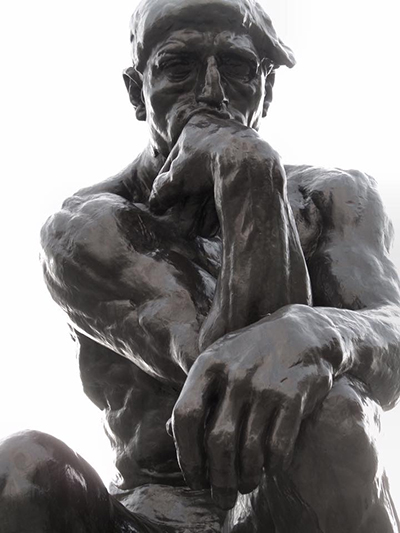 Buy Art Prints Now
from Amazon
* As an Amazon Associate, and partner with Google Adsense and Ezoic, I earn from qualifying purchases.
The sculptures of Auguste Rodin took inspiration from ancient Greece and updated it for the modern world. This famous French artist bridged the gap between ancient civilisations and all that we enjoy today.
Whilst also impressing with paintings and drawings, Auguste Rodin will always be known as a sculptor, first and foremost. Anything else was on the periphery of how we remember his career. The great man is one of the very few sculptors to have built a reputation which spread beyond this art form, being recognised as a would famous artist in his own right. There are few others that can truly claim to have achieved that, perhaps only Michelangelo, Donatello, Constantin Brancusi and Gian Lorenzo Bernini. Further famous artists such as Edgar Degas, Salvador Dali, Joan Miro and Pablo Picasso have produced notable sculptures but not in the quantity required to be mentioned in the same breath as the others listed here (see also Antonio Canova).
Auguste Rodin was passionate, almost obsessive about studying the great works of Ancient Greece but, whilst inspiring much of his career, his own sculptural style was contemporary and completely in keeping with French art of that period which was continuing to innovate and excite with new ideas and techniques. He was known to have visited the British Museum in London on several occasions and rated it amongst his favourite venues because of its collection of antiquities. He regretted that he was unable to study these fine pieces of sculpture and architecture on a more frequent basis. Rodin was also taught in traditional sculpture techniques from an early age, as well as being introduced to the great names of past centuries. For much of his career Rodin considered himself a craftsman rather than an artist, a subtle different but significant.
He also placed importance on gaining acceptance by the very community who had initially trained him, though as his confidence grew this became less important to him. The main art institutions across France did not ackowledge his work as much as he would have wanted, but this did not damage his overall international reputation which remains particularly strong even today. This was an artist who went his own way artistically and an approach which was broadly considered part of the realism movement that many traditional art critics rejected. Over time, however, he was able to build support for his work from the French government and also other elements of the artistic community. Prestigious commissions soon followed and in 1900 at around the turn of the century Rodin would be regarded as the finest French sculptor of that period. This section of the website delivers all of the most famous Auguste Rodin sculptures and offers a detailed discussion of each individual piece.
Rodin was certainly a deep thinker, even by the standards of an artist. He would go to extraordinary lengths in order to create the finest sculptures possible, often using the same models for days, if not weeks, before something suitable started to occur. He felt a great connect to nature too, and felt that an understanding of it was essential for any sculptor. He disliked single viewpoints as a student, preferring the opportunity to work from different angles when sculpting and so that became his main medium. He would regularly invite series of models to visit and would carefully select from them in order to get just the right look within his work. He also understood the complexity of the human body and saw it as a natural thing with endless variations. Rodin also believed that all directions and intensities of light should have been considered during the creation of each sculpture and that the intricate series of bumps and holes would be able to handle anything in the environment around it. The extraordinary mind of Rodin drove his contemporary style and also helped to cause controversies in the early part of his career.