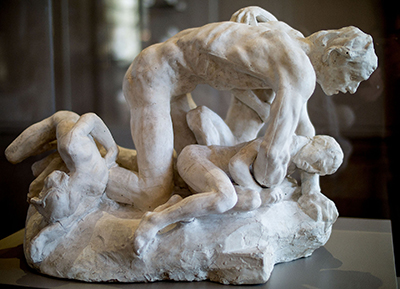 Buy Art Prints Now
from Amazon
* As an Amazon Associate, and partner with Google Adsense and Ezoic, I earn from qualifying purchases.
Many consider the French sculptor, Auguste Rodin to be the founder of modern sculpture. One of Rodin's many works is the sculpture titled Ugolino and his sons. It is part of the collection at the Musée Rodin in Paris.
Rodin received a commission in 1880 to create a significant sculptural work known as The Gates of Hell. Rather than being a single work, it was to be a group of sculpture pieces representing Dante's hell. One of the pieces was the sculpture, Ugolino and his sons. Rodin created the work in about 1881. It is made of plaster and measures 18.3in × 15.2in × 17.4in. It became part of the Musée Rodin's collection in 1916.
The sculpture is of Ugolino della Gherardesca and his dead children. Ugolino was the Count of Gherardesca during the 13th Century. Crazed by hunger, he committed the crime of eating his dead children while imprisoned in Pisa's, Muda Tower. The sculpture portrays Ugolino as naked and on his knees. Crawling over the bodies of his dying sons, Ugolino's face has an open mouth and a look of desperation. Because of this, he appears as having lost all sense of human dignity. Looking at the sculpture, Rodin gives the viewer a sense of the humiliation and animalistic nature of Ugolino's story.
In 1861 the French sculptor Jean-Baptiste Carpeaux created a sculpture of Ugolino and his dead children. Twenty years later it appears to have made an impression on Rodin. He uses ideas from Carpeaux's work for his own statue of Ugolino and his children. A key difference in Rodin's sculpture is the change in position of Ugolino. He places the figure of Ugolino in a horizontal position over his children. By doing this, the view is that it strengthens the inhumanity of what Ugolino did. Rodin uses the story in Dante Alighieri's Divine Comedy about Ugolino for his ideas. Because of his crime, the story tells how Ugolino also has the title of the Cannibal Count. Dante's story explains to the reader how Ugolino, driven mad by hunger, ate his dead children. Rodin uses Dante's story to explore the reasons for Ugolino's eternal damnation.