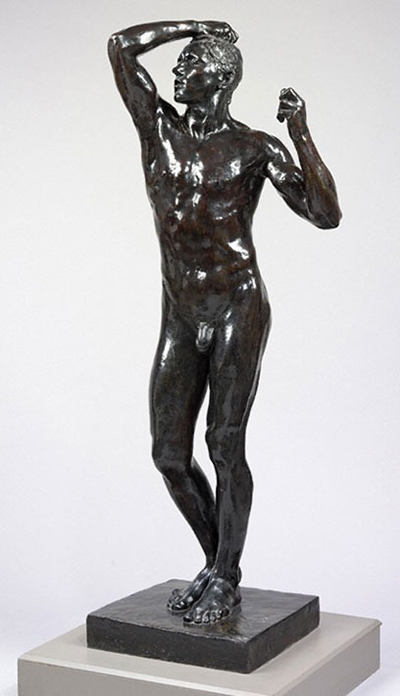 Buy Art Prints Now
from Amazon
* As an Amazon Associate, and partner with Google Adsense and Ezoic, I earn from qualifying purchases.
Auguste Rodin quotes are readily available due to the opinionated nature of his personality and also the extraordinary lengths that art historians have gone to in order to uncover every last detail around his life and career.
Famous Quotes by Auguste Rodin
I'm a worker who enjoys the basest of tasks.
These rough hands that now work the block also mix the plaster.
From my apprentice days, I've retained a mason's habits.
I'm like those artists of the Renaissance: they were craftsmen and not fine gentleman.

Rodin, quoted in La Meuse, 1911
I need a sitter in order to work. The sight of human forms nourishes and comforts me. I infinitely admire - I worship - the nude.
I'm in Rome for my health, in a place where, even at my age, I'm still studying.

Letter to Armand Dayot, 1915
Michelangelo, who beckons me to Italy, gave me valuable insights. I copied him in my mind, in some of my works, before understanding him.

Letter to Antoine Bourdelle, 1907
Rome means Bernini, an admirable man and an admirable sculptor, as fine as Michelangelo although not as subtle. It was Bernini who made Rome but nobody knows it.

Letter to Judith Cladel
Admiring things is a pleasure that begins each day anew.
I am giving to the Nation my entire oeuvre in plaster, marble, bronze and stone, my drawings, and the collection of antiques that I was fortunate enough to collect for the apprenticeship and education of artists and workers. And I am asking the Nation to maintain all these collections in the Hotel Biron, which will become the Musee Rodin, and to allow me to live there for the rest of my life.

Letter to Paul Escudier, 1909
It's the first time i've tried gathering all my work together to show the public. People will probably find my pretension singularly proud, but i'm convinced that by showing 'my sculpture' and what i mean by sculpture, i will be doing the cause of art a service.

As quoted by Gustave Schneider
I invent nothing, I rediscover.
First of all, nature must be captured as it offers itself, then, once the work is finished, its precise meaning can be found, if one so wishes.
To produce good sculpture it is not necessary to copy the works of antiquity; it is necessary first of all to regard the works of nature, and to see in those of the classics only the method by which they have interpreted nature.
The main thing is to be moved, to love, to hope, to tremble, to live. Be a man before being an artist.
The sculptor must learn to reproduce the surface, which means all that vibrates on the surface: spirit, soul, love, passion — life... Sculpture is thus the art of hollows and mounds, not of smoothness, or even polished planes.
I choose a block of marble and chop off whatever I do not need.
Patience is also a form of action.
Sculpture is the art of the hole and the lump.
True artists are almost the only men who do their work for pleasure.
Art is contemplation. It is the pleasure of the mind which searches into nature and which there divines the spirit of which nature herself is animated.
To the artist there is never anything ugly in nature.
Nothing is a waste of time if you use the experience wisely.
The artist must create a spark before he can make a fire and before art is born, the artist must be ready to be consumed by the fire of his own creation.
I choose a block of marble and chop off whatever I don't need.
Man's naked form belongs to no particular moment in history; it is eternal, and can be looked upon with joy by the people of all ages.
Quotes about Auguste Rodin by Fellow Artists and Art Historians
This character, this undefinable quality of affection, attention, and anxiety in the gaze, as though constantly questioning.

Leonce Benedite
Rodin stripped away many of the narative references to classical myth that were still attached to academic sculpture in the late-19th century and placed a new stress on the dignity of simple human moments. The fame of works such as The Kiss (1884), The Thinker (1880), and The Age of Bronze (1876) has transformed such depictions into paragons of high art, yet until Rodin's age, such sculpture's importance and novelty was not appreciated. Instead of representing gods or muses, he sculpted lifelike figures in distinctly modern attitudes of love, thought, and proud physicality.

TheArtStory.org
Rodin never carved in marble. He sometimes posed for the camera with hammer and chisel in hand, but his practice was to model in clay for others to carve in marble or cast into bronze.

The British Museum
The main concern of all Rodin's friends should be to ensure that he receives the greatest possible recognition during his own lifetime. The signs of admiration they are making around him are merely modest gestures aimed at posterity. Rodin's fame is now irrevocable. It would thus be fitting that he lay his eyes, before they close forever, upon the finest proof of enthusiasm we could offer him, which would be... to present him with a historic building where his entire oeuvre might stand.

Emile Verhaeren
He had many lovers - Rodin's personal charm and fame attracted many female admirers. Among them were talented artists, dancers and actresses. In 1883, Rodin met the 18-year-old Camille Claudel. The two formed a passionate but stormy relationship. Claudel was the model for many of Rodin's figures but she was also a talented sculptor in her own right and the two artists influenced each other greatly. Claudel worked for many years in Rodin's studio and assisted him with his commissions. She later accused Rodin of stealing her ideas and even of plotting to kill her. She also destroyed much of her own work at this time. Thought at the time to be suffering from mental illness, she was admitted to a psychiatric hospital where she spent the rest of her life.

The British Museum
Rodin's work process often encouraged him to reuse compositions in different ways. Most famously, figures that appear in his The Gates of Hell were often rendered at later dates, created separately and at different scales. But Rodin would also represent the same figure multiple times in the same sculpture or fragment figures into individual body parts like hands or arms. All of these processes were encouraged by his very unclassical approach to composition, and they produced strange and jarring effects.

TheArtStory.org