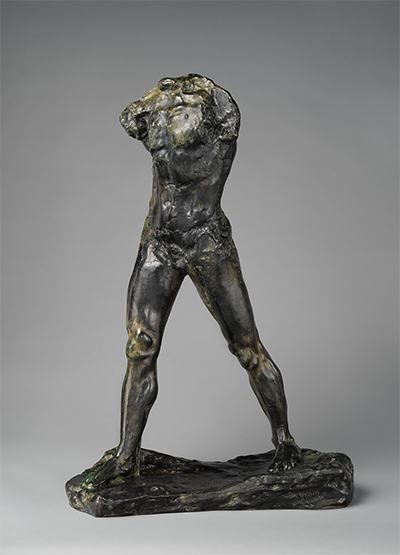 Buy Art Prints Now
from Amazon
* As an Amazon Associate, and partner with Google Adsense and Ezoic, I earn from qualifying purchases.
The Walking Man is one of the most complicated pieces of sculpture completed by Auguste Rodin. With his fascination towards sculptural representation specifically of the human body, Rodin comes up with a seemingly unfinished form of a male figure without the hands and head. The figure in its legs and torso is in a continuous form with a static step between the front and the hind leg.
Embracing an art done by some of the famous predecessors who had prowess in the field and making sure to remain not only relevant but one of the best years later was Auguste Rodin's hope. He drew his inspiration from the 18th Century sculptors like Louis-Francois Roubiliac, Jean-Baptiste Pigalle and Etienne Maurice Falconet, Rodin crafted his human form sculptures with a keen touch on details. Though in motion, the feet are firmly glued to the ground and the body in rough edges thanks to the evident fragmented pieces all over. This bronze sculpture is thought to have gotten its inspiration from Rodin's other piece of Saint John The Baptist Preaching which was one of his best life-size pieces.
The Walking Man shows the deliberate raw stages in the road to art creation perfection with the rough patches, very different from the smooth finishes on John the Baptist's image. It is also thought that Rodin's constant revision of his previous works is an attempt to show the contemporary urban life of the present age. Rodin took advantage of his arts liberty to create a controversial piece that received public criticism. The missing of the arms and head is also an indication of the artist's diversion from the traditional full figure sculptures to the unfinished alternatives, though this shift was met with backlashes. He however inspired some young artists like Henri Matisse who crafted several untitled sculptures, all of the same theme; in human form.
Other works by this 19th Century French artist include Woman Crouching, Adam and The Falling Man. He also sculpted other pieces in their unfinished forms not only for the modern age sculpting but to also show how he had eventually perfected his hands on the unfinished pieces. He also tries to show the public that no one defines an unfinished work of art apart from the artist himself. The Walking Man by Auguste Rodin is currently at the Rodin Museum in France: A Museum that was opened in 1919 in dedication to the artist's famous works, though some versions of the sculpture can be found in several other museums in Europe and USA.