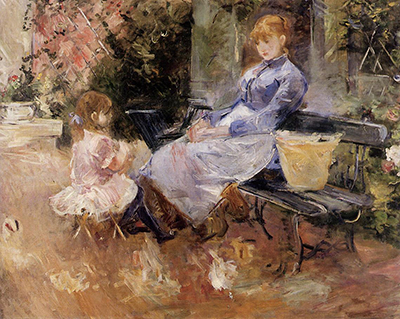 Buy Art Prints Now
from Amazon
* As an Amazon Associate, and partner with Google Adsense and Ezoic, I earn from qualifying purchases.
This artwork from 1883 came from the career of Berthe Morisot, a leading impressionist artist who was born in Bourges, Cher, France. She can be considered one of the most famous female artists of all time.
The Fable features a mother and child sat outdoors in their garden, enjoying a summer's day. Light saturates them, brightening all of the tones within the painting. The mother sits on a wooden bench, with a small basket or bowl to her left hand side. She is dressed in a long blue outfit which is suitable for her daily tasks which would have been dominated by the care of her child who sits close by. Mother and child look directly at each other, helping to connect the two together within this composition. These types of intimate relationships were not normally featured by male artists in quite the same way, allowing Morisot to bring something unique to the Impressionist movement. The girl is sat on a small stool and dressed in a delightful pink dress. This painting became known as The Fable, suggesting that the mother is telling the child a short story whilst they sit out in the sunshine.
This stunning piece is entirely typical of the artist, but relatively little is known about it. It resides within a private collection and any information on it has yet to be translated into English. Morisot left behind a large oeuvre which is spread evenly between private and public collections, and those fortunate enough to own one of her paintings will have something rather valuable within their possession. The increased interest in female painters has certainly brought more exposure to her career, just as it has for the related painter, Mary Cassatt. Both would focus on the lives around them, from a female perspective and this is particularly popular today. Whilst they possessed many similarities with their male counterparts in the Impressionist movement, they also retained unique elements which were encouraged by this creative, open-minded group.
The artist would return to this type of content many times across her career, with other famous examples including The Cradle, Summer's Day and In the Garden at Maurecourt. She felt very connected with the bond enjoyed by friends and family members, and particularly the mother and child connection which she would focus on many times. Her art captured society at that time, but not in the same ways as others had done. She would eventually be drawn into other topics, though, such as nights out at the theatre and holidays, but these would only appear every now and again as a means to freshen up her enthusiasm and creativity.