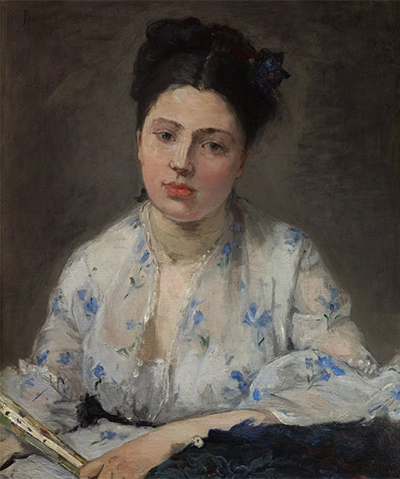 Buy Art Prints Now
from Amazon
* As an Amazon Associate, and partner with Google Adsense and Ezoic, I earn from qualifying purchases.
Jeune Femme is a delightful portrait of a young woman from 1871. This important piece can today be found in the permanent collection of The Museum of Fine Arts, in Houston, USA.
The lady is dressed in a opaque white blouse which features a floral pattern in blue. Some of her undergarment also shows through and there is a small belt peaking through from behind her left arm. She holds something which is partially cropped out of the piece, and it appears to be either a small painting or a book. She leans with her head just to the left, perhaps suggesting a thoughtful, reflective mood. Her facial features are highly suitable for a portrait, with a pretty, feminine face, including pouting lips and a straight nose. Her hair is carefully put up smartly behind her head. Her expression, from the eyes, is slightly dream-like, and her focus appears to be somewhere else as she gazes roughly towards the artist. Her cheeks are rosy, though her shoulders droop a little which continues this mood of self-introspection.
Across the background, Morisot incorporates a heavy brown tone with a slight variation in darkness which ensures it fits the rest of the content. The dark nature of it helps to contrast against the bright white clothing worn by the model. It is a striking and memorable portrait which is typical of the artist. She would have been around 30 years of age at the time of producing this painting, and roughly around the same age as the model herself. The painting, Jeune Femme, is around half a metre in height and width which is broadly typical of portraits in the Impressionist era, where only large canvases would be used for more complex arrangements such as multi-figure pieces or wide landscape scenes. She was heavily involved with the Impressionists and exhibited many times alongside some of her male counterparts, who were more encouraging and welcoming than some of the traditionally-minded academics.
Aside from this artwork, there is a good variety of work to be found at The Museum of Fine Arts, in Houston, USA. Many different styles and periods are included here, with some of the other notable additions to look out for including the likes Composition with Grid #1 by Piet Mondrian, Virgin and Child by Rogier van der Weyden, The Annunciation to the Shepherds by Joachim Wtewael and also The Elder Sister by William-Adolphe Bouguereau. There is much more besides to enjoy here, including a large amount of ceramics and also some non-western items which help to appeal to wider tastes. It remains one of the best art locations in the state, enjoying large visitor numbers every year.