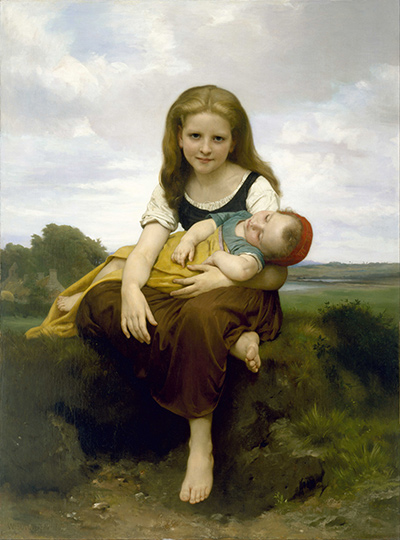 Buy Art Prints Now
from Amazon
* As an Amazon Associate, and partner with Google Adsense and Ezoic, I earn from qualifying purchases.
The Elder Sister, La soeur aînée in French, is an oil painting by artist William-Adolphe Bouguereau, painted in 1869.
In 1992 the painting was anonymously gifted to the Museum of Fine Arts in Houston, Texas, where it is displayed up until this day as a permanent feature in their Arts of Europe section.
The painting portrays a pre-teen girl sitting on a rock, holding a small infant in her arms. The infant seems to be sleeping, while the girl looks straight ahead, directly at the painter and now the viewer.
Bouguereau's technical ability to paint in such fine detail makes this painting closely resemble a photograph.
Individual blades of grass are seen in the foreground, while the leaves of the trees in the background are still visible too, something that will often be blurred in an oil painting.
The brickwork of the farmhouse in the distance to the left of the girl and her brother is clearly evident, even the nails on the girl's fingers seem to have a slight shine in the light. But the one thing that really stands out, is the exquisite details on the folds of the top of the girl's shirt. There is such great detail and shadowing in the lines and seams that it leaves one in awe of this piece.
The look on the girl's face is one of elegance and composure. That combined with the boy peacefully sleeping in her arms is what gives this piece, as a whole, a feeling of tranquillity.
The sleeping boy is thought to be his son Paul, while the girl in the picture is believed to be his daughter Henriette. She has similar features to –among several others– the girl in Little Thief (Petite Maraudeuse in French), The Prayer (La Priere in French), and the girl on the left in The Nut Gatherers, originally named Les Noisettes in French, all also by William-Adolphe Bouguereau. Leading one to believe that his daughter was of great inspiration to him.
The Elder Sister is not to be confused with a painting of a similar name by William-Adolphe Bouguereau. The Elder Sister, Reduction (La soeur aînée, réduction in French), was painted in 1864. While the painting is comparable in composition, with a girl holding a little boy in her arms, that is where the similarities end. Both the setting and the models depicted are completely different.
This painting now belongs to the permanent collection in the Brooklyn Museum.
The Elder Sister and The Elder Sister, Reduction are two known versions that William-Adolphe Bouguereau painted after a larger subject that was displayed in the Paris Salon.