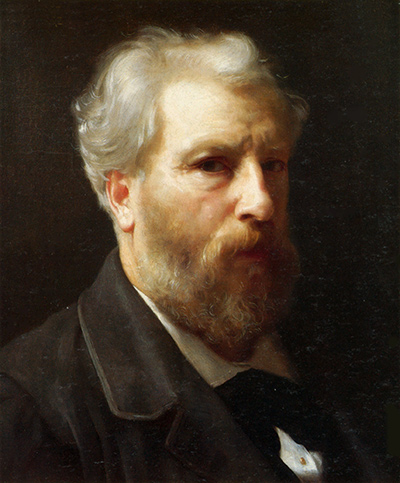 Buy Art Prints Now
from Amazon
* As an Amazon Associate, and partner with Google Adsense and Ezoic, I earn from qualifying purchases.
William-Adolphe Bouguereau a French painter from the late eighteenth century, where he was a part of the realism movement; with a deep affection for classical works.
In his realistic category of paintings he kept to portrayed biblically fabled themes, drafting modern metaphorical understandings of classical subjects in a refreshing style, which mostly portrayed women like goddesses – tangible and imagined subjects alike.
It is taught in art history that the techniques of the classical artistic greats were long forgotten by the late eighteenth century, but here was contradictory evidence to that long held belief.
Many art students are told that nobody had ever painted common people or peasants in their everyday life during this period.
Thus, art students who came to discover Bouguereau were astounded to have never have heard of him.
During his lifetime, Bouguereau was regarded as the greatest French academic artist of the time.
It is curious as to why there was such effort to have this genius' name removed from the pages of art history.
He was said to have produced 822 known works in his life, some lost to decay and others misplaced and forgotten.
Early life and Education
William-Adolphe Bouguereau was born to a poor family of merchants on the 30th of November, 1825. In La Rochelle, where they lived in France, the family business of selling olive oil and wine continued to remain in financial discord throughout Bouguereau's early life. His fate seemed to be to follow in the footsteps of running the family business until Eugène, Catholic priest and uncle to Bouguereau, took him under his wing to share his passion of classical and Biblical subjects, which he too began to show enthusiasm for. As a result, his uncle organised for Bouguereau to go into education. Alongside his studies, Bouguereau would take on side jobs for extra income to support him struggling relatives. His generosity was not unnoticed, many subjects he later employed referring to him as "Sweet Willie". In school his talents began to blossom early on, so much so that his father was convinced to send the young Bouguereau to Italy to attend École des Beaux-Arts Bordeaux; where his fantasy to attend to the congregation of great artists was becoming realised.
Bouguereau strongly wished to supplement his knowledge of the classics by the study of anatomy, costumes of the renaissance period and archaeology. Unfortunately, he did not have the funds to do so. However, through his uncle's connections, Bouguereau found opportunities to paint portraits of holy men for money. Eventually he saved up enough money to return to France and enrol as a student in École des Beaux-Arts, Paris. It was here he produced the famous 'Egalité devant la mort' (equality before death) at the young age of 23.
Bouguereau then went on to pursue painting in the academic style at François-Édouard Picot's studio; where he excelled in doing justice to classical artistry and his glory was soon to be attained. Bouguereau's 'Shepherds on the Banks of the Araxes' was considered his first true masterpiece. For his stream of academic achievements Bouguereau was awarded time to study in Villa Medici, Rome; here he further studied Renaissance artists and classical literature.
Rise to Fame
Bouguereau was very much conservative in his beliefs, especially when it came to art in terms of preserving the emblematic and classical ways of doing things; polar to the emerging Impressionist movement. People viewed Bouguereau's works as the epitome of taste and refinement, and a respected his admiration for tradition. Bouguereau's style was often compared to classical artistic greats. They complimented his intuitive knowledge of human anatomy and the contouring he mastered to add depth to his realistic portraits. Academics considered his unique throwback to classical paintings refreshing and tasteful.
Bouguereau's works were often compared to that of Raphael and other greats, whilst retaining originality in spirit. Being compared to the greats in a positive light catapulted Bouguereau further into the limelight of the art community. Bouguereau admired Raphael and took this review as a tall compliment. He won the Prix de Rome at the end of his educational training with his glorious masterpiece named Baudry.
Bouguereau's ability to portray of ladies, in a romanticised yet classy manner, was most charming to those whom admired his work, in-part because he could enhance the beauty of sitter while retaining her likeness. His reputation expanded to the point that his work made its way within the halls of great buildings, purchased by the French Government. A symbol of his newly acquired social standing.
Bouguereau's career was close to a direct ascent towards fame and fortune as there could be. In a very short span of him he had reached the pinnacle of success in the eyes of academic art and made it seem effortless in doing so; winning the Prix de Rome at age 26 in 1850, followed by several awards that eventually caused him to become situated as the president of the Académie des Beaux-Arts, which was the most prestigious art academy and home to the elite artistic society in the nation. It should be noted that during this period, Paris was in fact the centre of the western art world.
Slander and Ruin
Despite being adorned as the greatest painter within academia, there were many avant-garde (experimental, radical, or innovative) artists that strategically smeared him and detested his work. His rivals decided him to be merely a competent technician obsessed with the past; perceiving his classically inspired realism as limiting, outdating and unimaginative. The attacks against Bouguereau are some of the most despicable examples of targeted bias and prejudicial propaganda in art history to date.
Degas, a rival of Bouguereau, once claimed that he endeavoured to emulate Bouguereau's methodical and efficient working style, by producing quite exotic imagery. It in plausible that envy fuelled Degas' motivations. Degas along with his close connections coined the term "Bouguereauté" in a deprecating context, to describe any artistic style dependent on smooth and unnatural surfaces. Paul Gauguin (another illustrious post-Impressionist artist) equally detested him, referring to his paintings of women as vulgar and comparable to those found in a roman brothel. Gauguin backed up his harsh words by scoring him zero in his reviews.
Bouguereau's work grew increasingly popular with American millionaires who viewed his works as the most imperative French artist of their generation. Regardless of his fame, during his lifetime there was critical discord in the reviews of his art. Wanting to please his new wealthy following, gradual adjustments were made to his work to be more alluring to the Americans. And so, Bouguereau soon found himself torn between modern impressionism and classical styles. He admitted in 1891 that his more recent style of painting was in retort to the demands of his primary purchases in America. His rational defences, however, merely empowered his oppositions' claims.
What Bouguereau had unknowing done, by modernising his classical painting style, is make himself vulnerable to the attacks of those at the innovative front of the art movement. Richard Muther, the eighteenth century art historian, wrote in 1894 that Bouguereau was a weak man who merely mimicked the great classical works in a superficial sense. It was not just Muther who said such things; many influential men had referred to his drawings of women as nymph-like in nature, being tastelessly sexually erotic. He was accused routinely of pandering to the tastes of buyers, the new superrich stockbrokers and the like in America, and in the process desecrating the sanctity and soul to classical realism.
Primary Rivals
Edgar Degas was a French artist renowned for his paintings, sculptures, prints, and drawings. He is especially identified with the subject of dance; more than half of his works depict dancers. His subjects are often captured in very dynamic moments, from Opera singers in his 'The Singer with the Glove, 1878' painting or Ballerinas in mid-flight like the 'Dancer with a Bouquet of Flowers (Star of the Ballet), 1878' painting. He is regarded as one of the founders of Impressionism, making him a part of the avant-garde of his time.
Indeed what is most fascinating about Degas is that at the dawn of his career, Degas desired greatly to be a painter of history, a calling for which he was well prepared by his rigorous academic training and close study of classic art. In his early thirties, he altered the direction of his work and moved towards more "modern" depictions to portray modern life.
Degas, both loved as detested by many, deliberately cultivated his reputation as a misanthropic bachelor whose reputation and views were most controversial. Degas also had the demeanour of one with depression; purposely portrayed or innate, is unclear. He strongly believed that artists thrive best in isolation and shot down all political ideologies entertaining the concept of social reform.
Taking everything we know about Degas into account, spanning from his early career and ambition to his reputation and outlook on life, his attacks against Bouguereau seem increasingly inevitable. One might speculate without strain that Degas was envious that he could never compete with Bouguereau on the classical front and thus made it cause to tear him down after establishing himself in another sphere of artistry.
Paul Durand-Ruel
Paul Durand-Ruel was an eighteenth century French art dealer who is associated with the Impressionists and the Barbizon School. He was one of the first modern art dealers who provided support to his painters with stipends and solo exhibitions. He recognized the artistic and fashionable potential of Impressionism as early as 1870, and his first major exhibition of their work took place at his London gallery in 1872.
Journalist art critics were then funded by a network of art dealers, primarily by Durand, to hire exceptional writers in order to slander and discredit classical works of the time that were of the realism movement. Durand's motivations for doing so were simple. Classical works of immense realism and mastery took vast amounts of time to produce. Impressionism and other emerging flavours of "modern-art" meant that works could be produced in matter of hours instead of weeks and months. Since art dealers typically sell paintings before they are completed, the aim was to meet the huge demands of the Americans swiftly; not anxiously waiting for classical artists to produce.
At the close of 19th century Durand-Ruel had not only become the most popular art dealer, he succeeded in establishing the market for Impressionism in the United States as well as in Europe. The propaganda campaign made Durand-Ruel and his associates' untold fortunes, but ruined the reputation and credibility of Bouguereau, as well as many great masters of realism. They had been systematically removed from art history. Durand-Ruel had now become the most esteemed commercial supporter of French Impressionism in the world.
Personal Relationships
In 1856, Marie-Nelly Monchablon and Bouguereau wed. Before long the smitten couple were to bare five children together. His joys did not last forever, as in 1877 Bouguereau was to be dealt a cruel hand, when Marie-Nelly and his youngest son died. As an older gentleman, Bouguereau was then to marry a fellow artist, one of his pupils, Elizabeth Jane Gardner. His relationship with Elizabeth Gardner was widely known and a cause for gossip within the Parisian artistic community. However, the couple made no deceptions of their relationship over the course of a marriage that was to last seventeen years.
Death and Legacy
Throughout his life, but moreso towards the end of his life, Bouguereau describes art as the one true happiness in his life. Without the sun to illuminate his canvas he was depressed when he could do nought but wait. During his career, at least, an astounding 822 paintings had been produced by his hand; making Bouguereau one of the most productive classical artists who ever lived. Nonetheless, he succumbed to heart disease at the age of 79; in his hometown of La Rochelle on August 19, 1905.
Bouguereau was a kind, sentimental man who fought against many opponents during his long career. His primary influences of Michelangelo, Rembrandt and Titian can be seen in his work and by his effort and those under him during this period; classical artistry has managed to remain preserve to this day. Without Bouguereau, there may be very little trace to the ancient techniques of renaissance realism and neoclassicism, making him a cultural art hero.