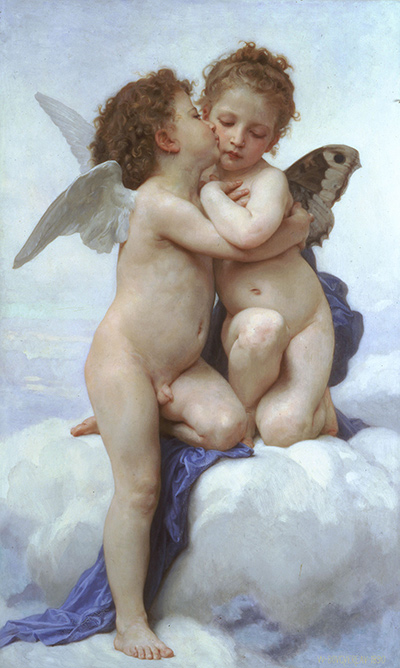 Buy Art Prints Now
from Amazon
* As an Amazon Associate, and partner with Google Adsense and Ezoic, I earn from qualifying purchases.
L'Amour et Psyche Enfants is an oil on canvass painting by French academic painter William-Adolphe Bouguereau and is one of his most famous paintings.
It depicts Cupid and Psyche as winged infants and is dated to 1890. His paintings were done in the classical style, strictly adhering to accurate shape and form. Other similar works to L'Amour et Psyche Enfants include Psyché et l'Amour (1889) and Le ravissement de Psyché (1895).
The angel-winged Cupid and the butterfly-winged Psyche embrace on a cloud, in an idealised portrayal of love and innocence. William-Adolphe Bouguereau uses colour and well defined outlines to create an accurate portrayal of the human form.
His use of light colours and technique combine seamlessly to depict an atmosphere of purity and child-like innocence. Bouguereau's use of brush strokes is controlled and light.
The painting L'Amour et Psyche Enfants is one of several paintings of Psyche and Cupid about innocence, romantic love, or sacred marriage. Bouguereau was inspired by themes of trial and redemption in the story of Cupid and Psyche as told by Apuleius in his work Metamorphoses, 2nd Century AD. His paintings such as Psyché et l'Amour touched on taboo subjects of the period such as sex and sensuality without being overtly sexual.
Bouguereau painted several versions of Eros (Cupid) and Psyche(Soul), drawing inspiration from Greek, Etruscan, and Roman mythology. The love of Cupid and Psyche is finally triumphant after overcoming many obstacles, with help from the gods.
William-Adolphe Bouguereau was born in La Rochelle, France, on November 30, 1825 and was destined to joined his family's wine and olive oil enterprise. But, his uncle Eugene had other plans for him and enrolled him in high school where his artist talent became apparent. It was at art school École des Beaux-Arts in Bordeaux, in Paris, that he won first prize for his painting of Saint Roch. His first major painting was Égalité devant la mort, an oil on canvass produced in 1848, at the age of 23.
He was influenced by the great masters like Raphael, and some reviewers compared his works to him. Throughout his painting career, he displayed his works in the Paris Salon, the leading traditionalist art exhibitor of that time. His paintings often centered on the female form.
Bouguereau was regarded one of the greatest classical, academic painters of the 19th Century. The general public loved his works, visiting the Paris Salon in high numbers to view paintings of nymphs, satyrs, and French farm life. Despite his popularity, his work was reviled by Impressionist and Symbolist painters for lacking in substance. His detractors criticised his paintings for being formulaic and artificial, produced to suit the tastes of conservative, wealthy clients.
Paintings such as L'Amour et Psyche Enfants were technical masterpieces but lacked emotion, sentiment, and drama. His attempts at evoking emotion in his works, especially in his paintings of pheasant girls, failed to impress his critics. Degas, an Impressionist painter, mocked the 'slick' nature of his paintings. Bouguereau was a staunch classical painter and refused to display works by Impressionists such as Claude Monet and Pierre Renoir at the Paris Salon.
William-Adolphe Bouguereau had married twice. In 1856, he married Marie-Nelly Monchablon and had five children. In his later years, he married one of his pupils, Elizabeth Jane Gardner from New Hampshire. He died from a heart attack at the age of 79, on August 19, 1905. Bouguereau was known to have finished 822 paintings in his lifetime, although many of his works remain lost. L'Amour et Psyche Enfants was incorrectly known as Le Premier Baiser or in English, The First Kiss.