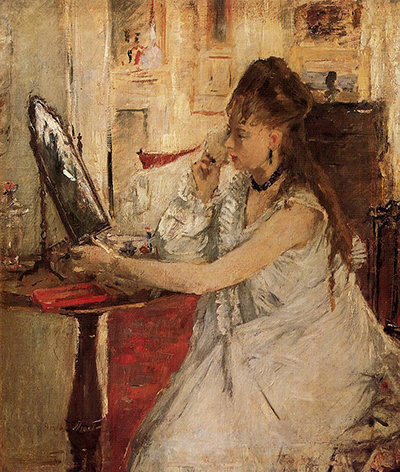 Buy Art Prints Now
from Amazon
* As an Amazon Associate, and partner with Google Adsense and Ezoic, I earn from qualifying purchases.
Young Woman Powdering her Face is dated at 1877 and captures the type of content which was typical of artist Morisot. She would have been in her late thirties at the time that she produced this piece.
This classical scene features a young woman sat by a wooden table, staring at herself whilst powerdering her face. Her hair is already stunningly styled, and her earrings hang delicately from her ears. It appears that she is preparing for a formal occassion of some sort and wants to look her absolute best. Upon the small wooden table is a framed mirror into which she looks, and a number of small bottles can be found on the table as well, most likely containing a selection of cosmetic items used at the time. The table is set up against a white wooden wall, or door, and then further behind we see a part of the rest of the room. A red strip of carpet covers the floor and a number of paintings can be seen across the wall at the back. There is a delicate, feminine mood within this painting and that is typical of Berthe Morisot's paintings.
The piece is relatively small, at around 46cm in height and 39cm in width. The artist's figurative portraits would normally be slightly larger than that, but not by much, and this would be typical of the Impressionist movement more generally. Not an awful lot else is known about this painting, and even less that has been translated into English, meaning that this artwork is likely to remain today within a private collection. Most publically held art has been researched to at least a basic level and documented too, where as items that are harder to access tend to be listed within catalogue raisonnes but rarely examined much closer than that. We also have many similar works from this artist's career which researchers can focus on instead, with portraits of females indoors being perhaps this artist's most common genre.
Other examples in which she focused on this type of content includes the likes of Young Girl with Cat, The Artist's Sister at a Window and also Woman at her Toilette. This was an artist who really brought attention to the lives of women in the late 19th century, when many male artists would focus on other topics. This has helped to broaden the scope of the Impressionists but also for historians to get visual examples of what life was like for women at that time in France. She was joined by Mary Cassatt who worked in a similar manner, plus a number of other French female artists who also left behind a particularly important legacy.