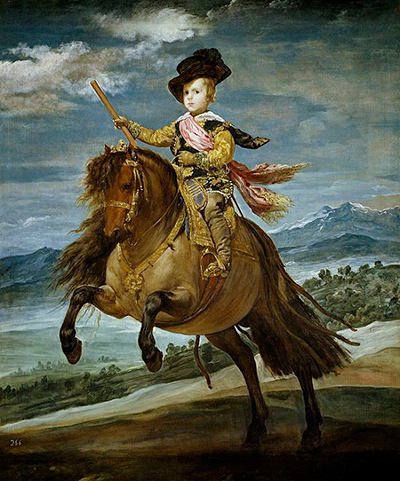 Buy Art Prints Now
from Amazon
* As an Amazon Associate, and partner with Google Adsense and Ezoic, I earn from qualifying purchases.
Prince Balthasar Charles, birthname Carlos, was in line to become the ruler of all Spanish territories before his untimely death at the age of just sixteen years of age. Families in established positions such as this would make great attempts to produce as many offspring as possible in order to ensure the safe passage of their lineage into future generations.
The Prince would immediately be presented in a variety of roles with the intention of portraying him as brave and strong. He was essentially being readied for service even as this young age and there were clear societal norms which he must follow. In this example we find him upon horseback, somehow managing to tame a muscular horse with sheer strength of character. It is hard to imagine this being reality, but Velazquez was likely tasked with the challenge of creating this illusion in order to continue to build the brand of this young child. His clothing is carefully chosen in order to continue this message, with an elegant suit that oozes class and wealth. Behind horse and rider, we find a sweeping landscape with snow tipped mountains and a rugged sea, with an expanse of land nearest us. This was the outdoor prince in all his glory, already prepared and capable of taking on whatever challenges were thrown his way.
Velazquez would make use of this young prince several times, within a variety of different pre-arranged scenes. Besides this piece, there was also Prince Balthasar Carlos in Hunting Dress and also Prince Baltasar Carlos with a Dwarf. He would be called upon because of his respected skills in portraiture as well as his ability to work within other genres as well, meaning that he could adapt to pretty much any idea or request. Wealthy patrons were essential to an artist's success at this point and there would tend to be two main commissions types being offered at this time - either portraits such as this with the intention of strengthening the family brand, or alternatively to produce religious scenes that could be used to decorate buildings of worship, just as was found within the Italian Renaissance. This had the unfortunate impact of restricting the ways in which art could develop for several centuries.
This intriguing piece from Diego Velazquez which captures Balthasar Charles, Prince of Asturias at around five or six years old, can now be found in the collection of the Prado Museum in Madrid which continues to hold probably the best display of Velazquez paintings, anywhere in the world. His pieces are dispersed fairly thinly around the world, amongst a selection of private collections and national and provincial galleries but somehow the Prado has managed to create a deep and varied group of artworks from his career, mainly focusing on paintings, but also with some drawings too. Whilst visiting this fine institution you may always want to see their other highlights, which include La Maja Desnuda and La Maja Vestida by Francisco de Goya, The Lute Player by Caravaggio and also Ecstasy of Saint Teresa by Gian Lorenzo Bernini.