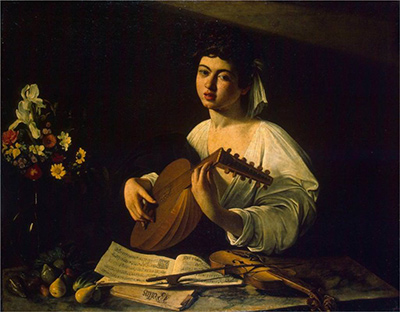 Buy Art Prints Now
from Amazon
* As an Amazon Associate, and partner with Google Adsense and Ezoic, I earn from qualifying purchases.
The Lute Player is an explicit composition by master Caravaggio.
The painting exists in three styles, one in the Badminton House in Gloucestershire, one in Hermitage Museum, St. Petersburg and another one in the Wildenstein Collection.
All the three versions display a boy with a thick brown hair, and soft facial features having a lute while singing a madrigal on love. The painting has quite a familiar taste evident in his previous paintings especially the tabletop in front of the boy, a feature consistent with the Uffizi Bacchus.
In contrary, the Badminton House and the Hermitage versions have a bare marble having fruits and flowers on one side and the violin on the other.
The Wildenstein version has its table covered in a carpet and holds a tenor recorder in front of it while the still life of flowers is replaced by a tiny keyboard instrument.
It is evident that the musical instruments are valuable and seem to have been obtained from Del Monte's collection.
The Badminton House and the Hermitage versions have a visible text that seems addressed to a lover. It explains love and the artist seems to display a certain emotion to his lover.
The flowers and the fruits seem to suggest that love, like any other thing, is mortal and fleeting. His choice of adopting Franco-Flemish composers rather than native Italians just reflects the political (and cultural) affiliations of the Del Monte-Giustiani circle.
The still life instruments on the versions and the flowers and fruits likened with the textures of flute and spinetta on the other are all of high standards. The notes on the madrigals have been produced in such a way that recognising the Roman printer, Valerio Dorica, is almost inevitable.
The androgynous model can be traced back to Pedro Montoya, who is known to have been part of Del Monte's household and a renowned singer at the Sistine Chapel at the time of Caravaggio.
However, recently the biographer of Caravaggio, Peter Robb, seem to have identified the model as Mario Minniti, a close friend of Caravaggio and who seem to be a model in Caravaggio's other paintings – Cardsharps and the two versions of the Fortune Teller.