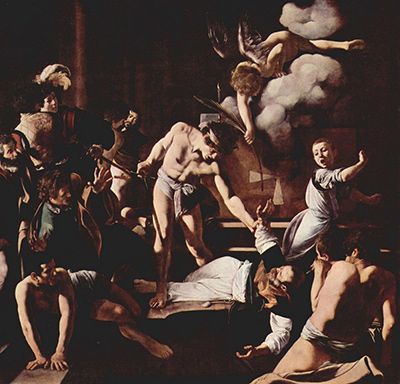 Buy Art Prints Now
from Amazon
* As an Amazon Associate, and partner with Google Adsense and Ezoic, I earn from qualifying purchases.
The Martyrdom of Saint Matthew is one of the paintings that made Italian master painter Michelangelo Merisi da Caravaggio famous. It was painted in oil on canvas between 1599 and 1600.
It is one half of the two-piece commission he completed for the Contarelli Chapel in Rome, the matching piece being The Calling of Saint Matthew.
Caravaggio's use of realism and sharply contrasting light and shadow, known as tenebrism, proved divisive, but he was wildly popular and well-respected as an artist, particularly by the younger generation.
He had a profound influence on the Baroque style, which heavily featured tenebrism.
As the name suggests, this work depicts the death of Saint Matthew the Evangelist, who wrote the Gospel of Matthew.
He had admonished the King of Ethiopia for lusting after his own niece, a nun, so the King had him murdered while he was celebrating Mass.
The striking lighting emphasises the drama of the piece as the murderer readies his sword, while Matthew reaches up towards the outstretched hand of the angel.
This piece proved to be a difficult one for Caravaggio. He was given instructions to include a crowd of bystanders and some architectural features, but had little experience with either, nor with painting such a large canvas.
Using x-rays, two previous attempts were revealed beneath the final work. The first version of the painting was in the Mannerist style of Giuseppe Cesari, while the second emulated that of Raphael.
After these two attempts, Caravaggio turned his attention instead to the companion piece, The Calling of St Matthew. He returned to The Martyrdom of Saint Matthew with renewed confidence, choosing to remove much of the crowd and the architecture to instead focus on the action of the scene in keeping with his own style.
The Martyrdom of Saint Matthew has remained in the Contarelli Chapel since its installation in July 1600. It hangs opposite its partner piece and next to the altarpiece Caravaggio was later commissioned to paint, The Inspiration of Saint Matthew.