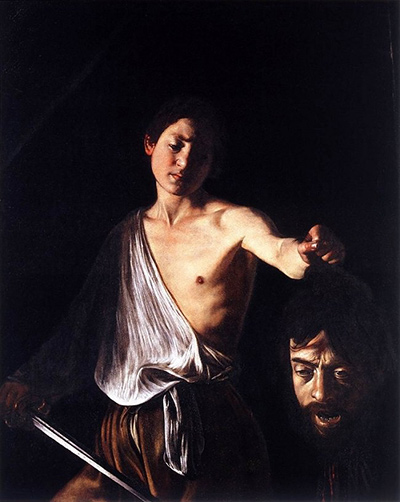 Buy Art Prints Now
from Amazon
* As an Amazon Associate, and partner with Google Adsense and Ezoic, I earn from qualifying purchases.
The painting displays a young man (David) who is wearing a tunic that has partially fallen off from conflict.
In his left hand, he grips the hair of Goliath decapitated head, which is suspended in the air.
It appears his death occurred while screaming as his mouth was left partially open, and his gaze appears sightless with blood dripping from is detached head.
David gazes at the head with a downward expression. This expression has been the source of much debate.
Some believe he is showing remorse while others believe he is showing triumph.
In his right hand, David holds a sword which he used against Goliath. Upon closer inspection the sword has the following letters inscribed on it "H AS OS".
It is believed to be an abbreviation of a latin phrase which means "humility shall kill pride".
The painting is on display at the Galleria Borghese in Rome, where it was originally sent to from Caravaggio when he was requesting a pardon. It has remained there ever since.
Caravaggio (full name is Michelangelo Merisi da Caravaggio) was an Italian artist who lived from 1571 to 1610. Caravaggio was a Baroque artist and worked throughout Europe, in cities such as Sicily, Malta, Naples and Rome.
Although he is an influential artist, he lived a turbulent and violent life and in 1606 he was accused of murder. He then fled from Rome to escape the bounty placed on his head, and went to places such as Sicily, Naples and Malta.
It is said that the severed head of Goliath, in his painting "David with the head of Goliath" was a self portrait of himself, and that the painting was used a means to gain a pardon from the papal court. Although he was eventually granted a pardon, it never reached him as Caravaggio passed away in Porto Ercole before the pardon was received by him.