The Museo Nazionale del Bargello holds this memorable creation that is far more well known and artistically respected than his earlier marble version that arrived in around 1408-1409.
Donatello was undoubtably one of the finest sculptors in all art history and highly significant in influencing elements of the Italian Renaissance. The bronze version of David is perhaps his most famous sculpture from a list of around 20 that still remain today. Some of these are similarly free-standing figures whilst some of his other work was more decorative for existing architectural features.
The achievements of Donatello in this extraordinary bronze sculpture have unfortunately been overshadowed some what by Michelangelo's sculpture of the same name. Art history has a tendancy to go through fashionable periods and currently the work of Michelangelo, Da Vinci and Raphael is focused on much more than that of the single-disciplined Donatello.
The theme of David featured in the oeuvre of many famous sculptors from the various stages of the Renaissance, though Donatello was certainly one of the earliest. Besides the world famous version by Michelangelo from 1501-1504 there were also significant contributions from Gian Lorenzo Bernini, Bartolomeo Bellano, Domenico Ghirlandaio, Verrocchio and Antonio del Pollaiuolo. The concept of something or someone overcoming overwhelming odds provides inspiration that remains timeless.
It is specifically the triumph of good over evil, thanks to the intervention of God, that makes this such a symbolic tale. David receives strength from God which enables him to defeat his much larger opponent with just a small sling. Having stunned Goliath he then uses the giant's own sword to behead him and confirm victory.
Goliath's initial challenge is rejected by all of the Israelites' soldiers, leaving the brave shepherd boy to step into the breach and take him on. The Philistines agree to withdraw from their occupation if David is victorious, believing his chances to be virtually nil. They honour their agreement after the battle and the Israelites are saved.
Donatello's Bronze David Sculpture from 1430s-1440s
The artist's second sculpture of David measures 158cm and is dated from the 1430s to 1440s. David is nude in this depiction, other than his helmet and boots. Nude sculpture within the Renaissance was, of course, particularly common. The marbled version features David fully clothed.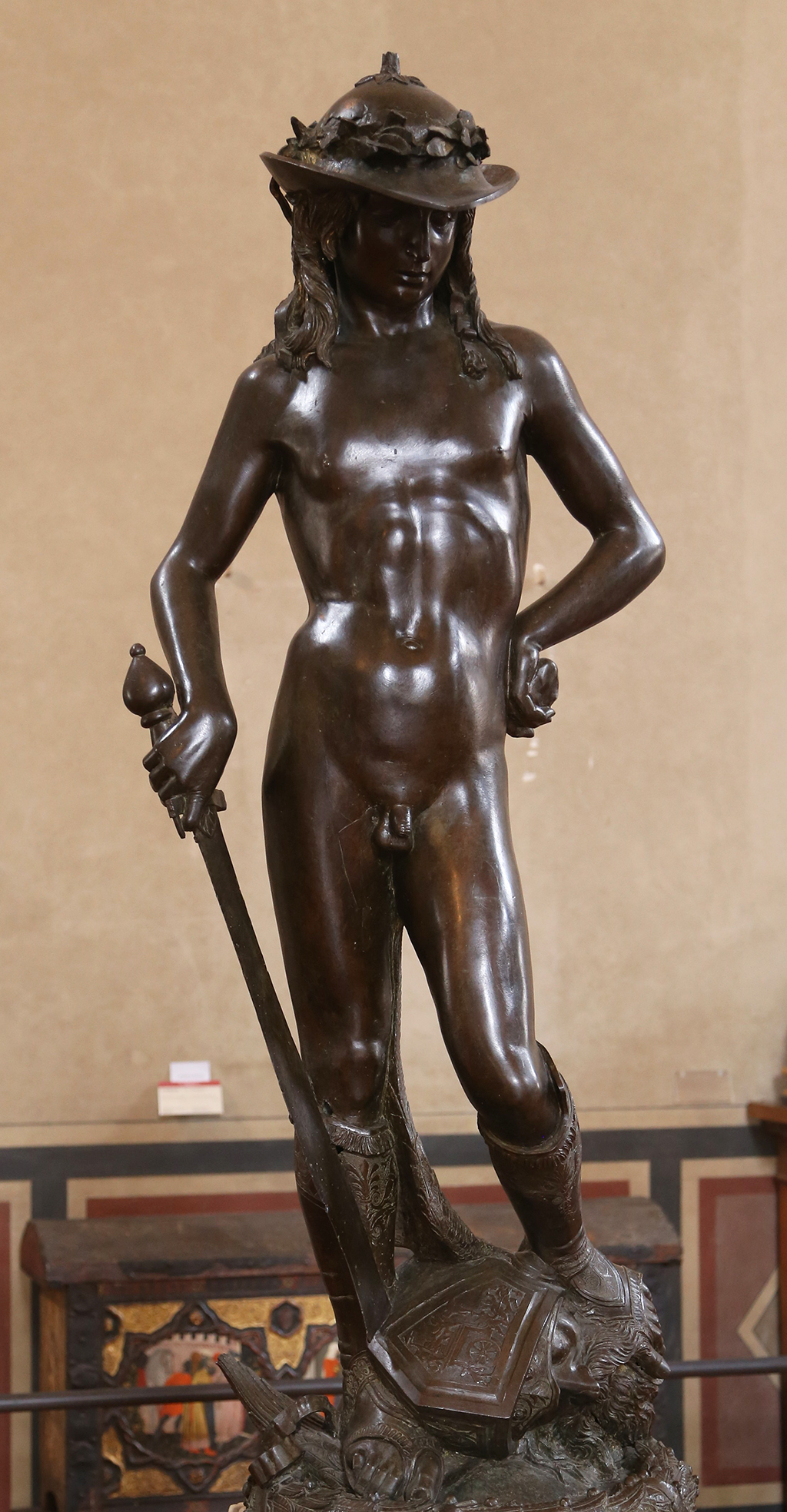 Donatello's David in Marble from 1408-1409