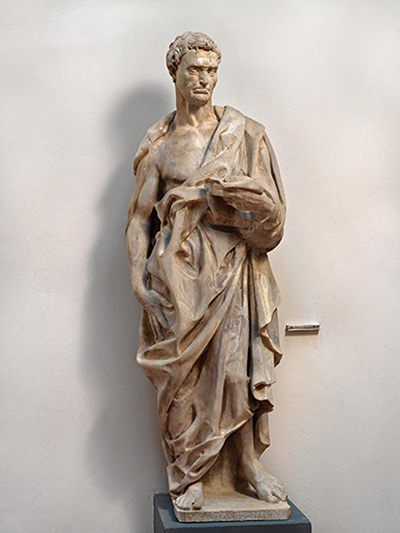 Buy Art Prints Now
from Amazon
* As an Amazon Associate, and partner with Google Adsense and Ezoic, I earn from qualifying purchases.
Standing majestically at 191 centimetres, Jeremiah statue keeps vigil at the Museo dell'Opera Duomo in Florence, Italy
The prophet Jeremiah puts up a veiled facial expression that reveals a host of burning issues inside of him. For a prophet who had to undergo persecution, Jeremiah's sculpture depicts a weeping man. Starting his ministry in 626 BC just right into the thirteenth reign of King Josiah of Judah, Jeremiah had initially declined to be a prophet at a time when the people of Israel had completely turned their face from YWH.
Jeremiah is clad in a free-flowing Roman toga which is perhaps heavier than the ministry of repentance he had to preach during his time. His marble-curved face looks straight into the future, perhaps seeing the famine, plunder and captivity that the people of Israel were quickly hurtling towards in their disobedience.
The life-size sculpture in Florence carries in its wide shoulders the huge responsibility of warning his people against the worship of Baal. Jeremiah faced stiff opposition, beatings and was thrown into the stocks from where all passersby mocked him.
This majestic marble sculpture cuts the picture of an orator boxed by his own people, yet still having a fire burning inside of him. The prophet Jeremiah at one point in his ministry says he sometimes desires to shut the word of God inside but the word becomes like a fire burning in his heart, and he is unable to stop speaking.
For a man whose mouth was personally touched by YWH, the prophet Jeremiah's consuming presence at the Museo dell'Opera Duomo in Florence is a marvel to art lovers. The prophet Jeremiah is among the works of art Donatello produced while still in his youthful stages of life (1424-1427). Donatello devoted most of his life to art and ancient sculptures. No record of his marriage is noted anywhere in the Italian history.
Introduction to Donatello
Born Donato di Betto Bardi to Nicollo di Betto in 1386, he was nicknamed Donatello by his friends and family. Donatello was later to be educated in Martellis' wealthy family home from where he would receive his first training from a goldsmith.
Before turning 20, Donatello was already receiving commissions for sculptures, which at the time were so popular with the churches and local authorities. Donatello learnt his skills in metallurgy and fabrication as an apprentice under then famous sculptor Lorenzo Ghiberti who was getting bigger sculpture contracts from churches in the 15th century.
It is while he was with Ghiberti that Donatello produced his first sculpture of King David, a life-size gothic-style art with an expressionless face. At the time, most sculptors of Northern Europe were yet to master the art of life-size sculptures, and this quickly shot Donatello to monumental fame. He started getting orders, as the demand for such sculptures grew exponentially in Europe.
Donatello's art developed and improved with time, and he started placing expressions on the faces of his sculptures. The expressions, depending on the piece of art, ranged from joy to grief. The prophet Jeremiah's sculpture was one of the refined pieces of art by Donatello which had deep-seated expressions revealing the battle, and turmoil Jeremiah was going through in ancient Israel. His signature long smooth lines and gothic style greatly inform the pieces of art Donatello had during the Italian Renaissance.
Jeremiah's Expressions
The prophet Jeremiah's facial expressions and posture depict that of a spiritually fatigued man. Even after having been anointed by God while in his mother's womb, the children of Israel would not hearken to Jeremiah's word. At the height of Jeremiah's prophecies, he was arrested and jailed in a dungeon for proclaiming an unpalatable message which had become unpopular under King Zedekiah's reign.
Donatello, known for his vertical smooth lines, is believed to have been assisted in the sculpture of the prophet Jeremiah by his older counterpart at the time Nanni di Bianco. Nanni's father had worked in the Cathedral, where Donatello was to join him as an apprentice.
Nanni, an accomplished renaissance sculptor trained by his father would then hold Donatello's hands in the sculpting of the prophet Jeremiah before dying in 1426. The sculpture was completed in 1427. This marvellous piece of art done by two iconic artists was originally meant to be placed at the Bell Tower next to the Duomo (the main Cathedral in Florence).
This cathedral had commissioned the creation of 16 Old Testament prophets which were to be placed at its various entrances in remembrance of their prophetic work. Nine of the sculptures had been completed by medieval artists while Donatello and Nanni worked on the remaining seven prophets.