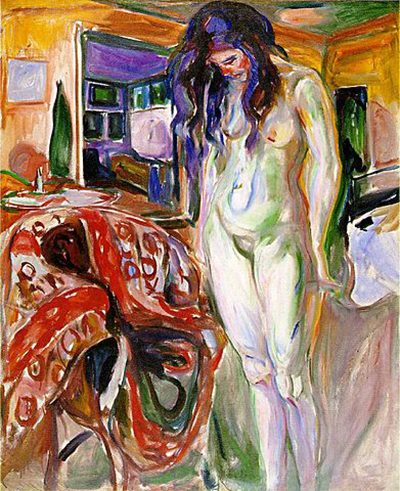 Buy Art Prints Now
from Amazon
* As an Amazon Associate, and partner with Google Adsense and Ezoic, I earn from qualifying purchases.
Most, if not all the paintings done by the Norwegian craftsman, Edvard Munch carry intimate yet deeper sentiments than actually meets the eye. Love. Jealousy. Loneliness, death, fear and life. Edvard Munch's painting of a model standing beside a wicker chair is not as celebrated as his 1893 painting, The Scream.
Nonetheless, the artist worked his way pretty well with oil and canvas, between 1919 and 1921, to deliver a classic painting with a remarkable harmony of subtle impressionism and vivid expressionism styles, and a fierce yet mysterious depiction of solitude. Sadness. A first glance at the art piece reveals Munch's mastery of his expressionist abilities. Despite his prowess in giving paintings life with the effect of light on color, Munch tends to rely more on a subjective style, to reveal a deeper human emotion hidden beneath the image of a creation: expressionism.
The setting of the painting is in a brightly colored room. The walls are painted orange. Some parts of the ceiling are green, and the wicker chair is mostly red with some whitish delineations. Lighter shades of white highlight the model's physique. She is a young lady. Her hair is a dark black, and it falls on her shoulders. She is naked, and her head hangs downward, in a shameful manner, the kind of gesture one would make when being watched directly. She is lonely, upset, sad, and waiting. Waiting on something to happen, waiting for someone to tell her what to do next. There are no tears on her face, but deep inside, her heart is wailing. She longs for a certain freedom. She can't do anything else as she waits. She won't even sit on the reddish wicker chair. It's almost as if it's not there, just like her. It's lost, and she's lost with it.
Edvard Munch began painting the lady adjacent to the wicker chair in 1919 and completed the artwork in 1921. The Norwegian's piece is located in the city of Oslo. Many of his renowned paintings, including the Model beside the Chair and The Scream reside in the Munch gallery. Edvard Munch has incorporated contemporary art and expressionism in the piece, artistic styles he learnt from the works of van Gogh and Gauguin. The painting of a model standing alongside the braided chair has appeared in major modernistic exhibitions around the globe, including New York City and Madrid. The 1921 piece has made Munch not only a trendsetter in the modern world of art but also a celebrated storyteller of human emotion through art.