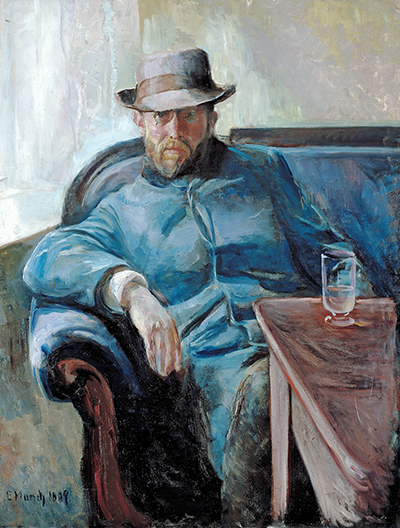 Buy Art Prints Now
from Amazon
* As an Amazon Associate, and partner with Google Adsense and Ezoic, I earn from qualifying purchases.
Edvard Munch produced a number of highly celebrated portrait paintings, some of himself and some of pre-arranged models. This artwork captures the famous writer, Hans Jaeger.
Hans sits on a blue sofa in a particular casual pose. He has a small drink to his side on a small wooden table. His hunched manner does not ooze happiness, though, a his facial expression is fairly serious. You can make out some small detail on the wooden floor boards but the room is fairly plain, typical of the artist.
Most of the internal portraits created by Munch retain this minimal detail, most likely to avoid a viewer's eye being distracted away from the main focal point. The writer's jacket is in a tone of blue not entirely dissimilar to the couch on which he sits, making these two almost merged into one.
There are also tones of brown that match up, with a stripe on the gentleman's hat, plus the wood of the table and the strengthened section of the sofa. Hans Jaeger's serious face is similar to other artworks such as Self-Portrait with Burning Cigarette, Jealousy and Self Portrait with Bottle of Wine. Munch suffered from depression throughout his life and more upbeat artworks were rare in his career.