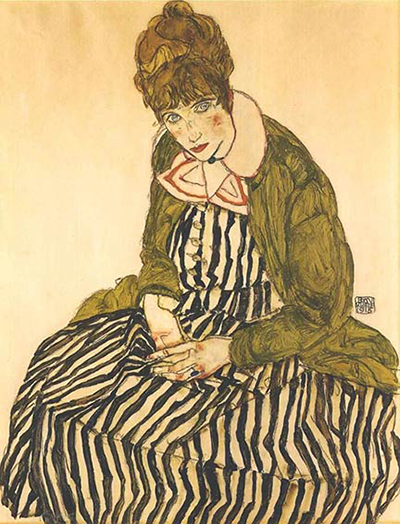 Buy Art Prints Now
from Amazon
* As an Amazon Associate, and partner with Google Adsense and Ezoic, I earn from qualifying purchases.
Originally painted in 1915 as a watercolour and gouache on paper, this beautiful portrait is of Edith Schiele. Edith and Egon married in 1915 and their story is as interesting as Schiele's expressive paintings.
Despite Schiele's shocking reputation for explicit and sexual artwork, Edith eventually married Schiele in 1915. Schiele had described the marriage as "advantageous" as Edith was pretty and came from a respectable bourgeois family. Initially Schiele thought he would continue to see his muse and model, Wally Neuzil after the marriage, but neither Wally nor Edith shared his view. In the years following his marriage and the departure of his muse Wally, who had modelled for both Schiele and his mentor Gustav Klimt, Schiele's work lost some of the more erotic and explicit sexuality. Edith was convent educated and didn't particularly like posing for Schiele. Their marriage was not particularly easy either. There is a similar portrait of her sister Adele, in a black and white striped dress and it is not clear whether Schiele had a relationship with her too.
Here, in this particular image of Edith Schiele, however, we start to see tenderness appear within the emotional range of Schiele's work. There is still some evidence of the mastery of his line drawing which appears in this portrait but what is clear is that Schiele seems to have captured Edith's very thoughts at that moment. She has an air of innocence and almost sadness in the pose, in contrast to his portrait of Edith Schiele Standing in a Striped Dress which her family felt portrayed her as looking foolish. Egon Schiele died 3 days after his wife, Edith Schiele, and he produced a famous drawing which captured the Dying Edith Schiele. He died from Spanish flu on the day of her funeral. Despite such a short career Schiele's work had a major impact on the art world and his influence remains today.
Edith Schiele was an attractive woman whose features were ideally suited to the artist's style of portraiture. She was slim, with a classically beautiful face with pointed chin and feminine features. We can tell a lot from her via the portraits produced by Egon Schiele, but also in other documents that remain left over from their lives, such as letters and also opinions on their lives from friends and family. Within this portrait she is wearing a green cardigan over the top of a striped dress which has large red and white lapels. She wearrs a ring on her left hand and also sports some subtle touches of makeup to her cheeks and lips. She looks elegant and youthful, somewhat disguising the deep problems found within Vienna at the top, due to war and sickess that had both spread across the entire continent.