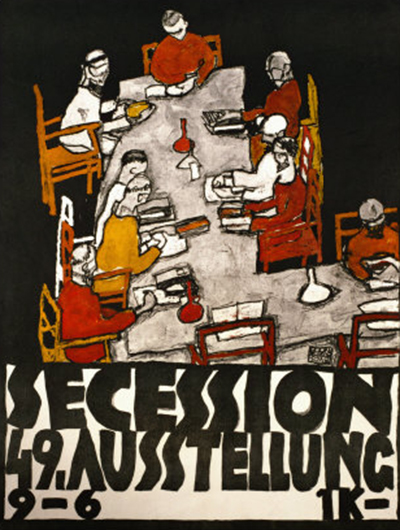 Buy Art Prints Now
from Amazon
* As an Amazon Associate, and partner with Google Adsense and Ezoic, I earn from qualifying purchases.
The painting The Friends (Round Table) was created in 1918 by Egon Schiele as a Sezessionsplakat (poster) promoting the forty-ninth secession exhibition of the Vienna "Neukunstgruppe" which opposed the more conservative Kuenstlerhaus in Vienna.
The Sezessionsplakat shows the Austrian Secession member Egon Schiele in a seemingly Christ-like position at the head of an L-shaped table, surrounded by other artist friends. The scene presents itself in a slightly contorted point of view - from an overhead angle - accentuating the bond of the group. Clearly reflecting Schiele's nature, the key message of this art piece is shaped by an academic baseline and a punctilious formation of a potently reduced atmosphere due to its flat appearance and uninterrupted circumjacent. The design was inspired by previous sketches and a painting Schiele created in 1917. The original of this Art Nouveau (Modern) painting is located at the University of Cambridge Fitzwilliam Museum, UK.
Here, the empty chair opposite the head of the table is still occupied by Gustav Klimt - the founding member of the Vienna Secession and Schiele's mentor, who died a short time before the expo. In later versions, Schiele left the chair empty as he felt no one could replace Klimt. Egon Schiele (Tulln, Austria 1890 - 1918 Vienna, Austria) is known as an early exponent of Expressionism and his art is most famous for its agony, physical deformations, and distinct eroticism – making them popular today, but rarely appreciated during his lifetime. Amongst his nearly 3,500 artworks, his touching self-portraits, and distressed nude drawings are the paintings that clearly stand out and define his unique style. Schiele died in 1918, at the age of only 28, from the Spanish flu – leaving behind a true legacy of expressional artworks.
Many of these great works remain within public collections in Vienna, adding to its already incredible mix of culture that covers visual arts and music. As someone who believed in working within a contemporary style, Schiele required the help of other like minded individuals in order to help promote his work and that is why he became involved in some of the artist collectives that were around in the early 20th century. The same can be said for the likes of Marc and Kandinsky too, though many of these movements would last just a few years before re-appearing under a different name and new direction. They would often use their creative talents to produce posters such as this one, as well as even manifestos for the more organised. Ultimately this was a way of building strength with a movement and trying to get some form of acceptance for these new ideas that would typically be met with resistance from some quarters.