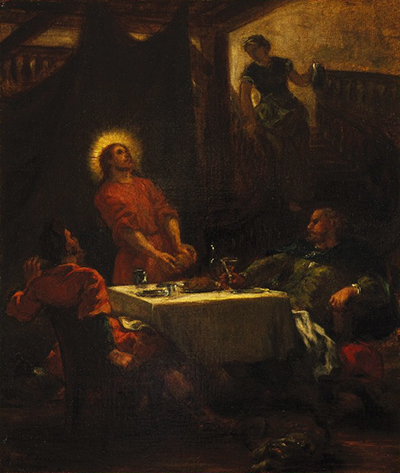 Buy Art Prints Now
from Amazon
* As an Amazon Associate, and partner with Google Adsense and Ezoic, I earn from qualifying purchases.
The Disciples at Emmaus is a dimly-lit artwork from the career of Eugene Delacroix and is dated at around 1853. It can now be found in the Brooklyn Museum in New York, USA.
Within the composition in front of us here we find the disciples sat at an open table, drinking and chatting together. There are elements of furniture elsewhere in the room and also a darkened figure in the very far distance who watches over these men. One notices first of all the contrast of this piece, where very little light is allowed in and this was more common within Delacroix's career than many realises, particularly amongst some of his lesser known paintings. This particular artwork measures 55cm in height by 47cm in width, making it relatively small and potentially it could have been used by religious followers within their own home for personal devotion, in a similar way to how many commissioned pieces were used centuries earlier in the various stages of the Italian Renaissance. Its position in the Brooklyn Museum bolsters their selection of European art, with Delacroix being the biggest name from the Romanticist movement.
Disciples at Emmaus is a story which is often sometimes known instead as Supper at Emmaus. It has been addressed by a good number of European artists, most commonly during the Italian Renaissance at a time when religion was at its strongest within society. Caravaggio famously produced several interpretations of the scene within his own dramatic manner. Jesus is normally placed in the centre of each composition and in Delacroix's case, he has a vibrant halo around his head to signify his identity. Delacroix also uses very dramatic lighting, using just enough that we can at least make out the main areas of detail, whilst being dark enough to create the type of atmosphere that he was hoping to achieve.
The museum itself hosts related artworks from across Europe, making it an excellent resource for those interested in this important period of western art. Some of the other great names to be discovered here include the likes of Charles Willson Peale, Albert Pinkham Ryder, Winslow Homer, John Singer Sargent, Georgia O'Keeffe and Mary Cassatt, with many more besides to see and enjoy. They continue to add to their already impressive collection and also have a large amount of art and antiquities from other parts of the world which helps to broaden their appeal considerably and better represent the diverse nature of New York's population. They also host regular exhibitions all year round which allow items from other collections to be displayed for periods of several months in order to keep the overall display as fresh as possible for repeat visitors.