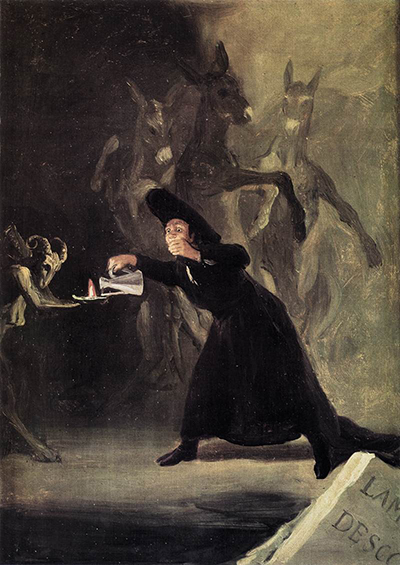 Buy Art Prints Now
from Amazon
* As an Amazon Associate, and partner with Google Adsense and Ezoic, I earn from qualifying purchases.
This 1798 oil-on-canvas painting by the Spanish artist Francisco de Goya is unique because it's known by two names. It is called The Bewitched Man or The Devil's Lamp. Either name fits and it's the story of a man who thinks he's been bewitched and that his life depends on whether a certain lamp remains lit.
The painting has an eerie, ghostly quality, full of lamplight and dancing shadows. We can see the ghostly figures of horses in the background and the very obvious, sinister figure of the devil offering the lamp to Don Claudio, the subject, to continue to light. We can see Don Claudio pouring oil into the lamp in the picture and ghostly horses standing on their hind legs in the background. The expression and body posture of the man is full of mental agony and torment as he strains to keep himself alive against the odds of the lamp going out.
The devil appears in a mock-helpful posture of bowing obsequiousness. But his ulterior motive is to drive the poor soul out of his mind.This is the father of lies, after all, the enemy of humankind. This painting is actually a scene from a play by Antonio de Zamora, called The Man Bewitched by Force. It was one of a series of paintings created by the Goya for the Duke and Duchess of Osuna and it is to be found today among the treasures in London's National Gallery.
Francisco de Goya y Lucientes, or Francisco Goya as we know him today, was born in 1746 in Fuendetodos in Spain. The town takes great pride in the fame and work of Goya and has a museum dedicated to him and his work. As a painter, he was part of the romantic movement and he was prominent in the late 18th and early 19th centuries. He used the medium of oil on canvas and sometimes oil on plaster, to good effect. He had a bleak outlook on life and greatly feared mental illness. This is often apparent in his painting, which exhibited dark and despairing themes. He greatly feared an undiagnosed illness that left him deaf, so towards the end of his life, he retired from public life and went to France, where he completed some of his darkest and most enigmantic works He died in the French port city of Bordeaux at the age of 82, in 1828.