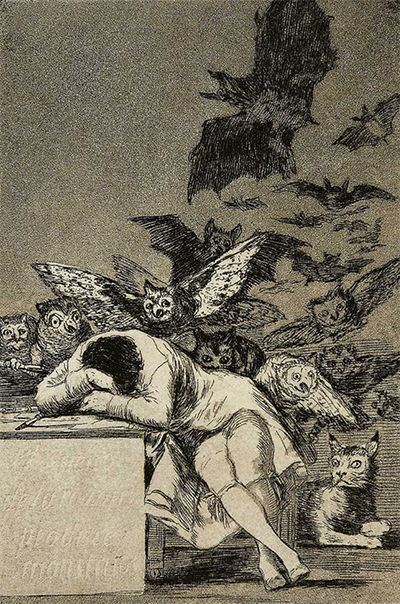 Buy Art Prints Now
from Amazon
* As an Amazon Associate, and partner with Google Adsense and Ezoic, I earn from qualifying purchases.
The etchings of Francisco de Goya are a significant and much studied facet of his career that spanned between the years of 1778 to 1825 and made use of the standard techniques of etching plus aquatint and drypoint.
This extended spell of several decades was only ended by this ambitious artist's decision to move into lithography in his latter years. Goya is considered one of the finest technicians with regards printmaking and his work in this medium fit into several groundbreaking series of etchings, each set along a particular theme. Some of the other most notable etchers besides Goya include Rembrandt van Rijn, Albrecht Durer, William Hogarth, James Whistler, Anthony van Dyck and Edgar Degas.
Whilst the paintings from oil will always make headlines with the more occassional art fans, this artist's etchings have continued to impress art historians and over recent centuries there have been several major discoveries of his work in this medium that have continued to draw attention to it. It is specifically his series of Copies after Velázquez, Caprichos, The Disasters of War, Tauromaquia, Disparates and The Bulls of Bordeaux that are respected by art historians and each element of them are considered masterpieces within his overall oeuvre.
Goya's work provided a critical eye on Spanish society at that time, providing his views on war, poverty, corruption, violence and the balance of morality, just as William Hogarth had done in his British engravings. Art was no-longer just about depicting religious and mythological figures as seen in the Renaissance and Baroque periods, it was now more about expression and debate. The darkness found in many of Goya's paintings would describe a man with a particularly cynical nature but he was somewhat more positive in his early years. When studying the messages from his etchings, it is important to place the work within the context of Spain during this period, with several social, religious and cultural conflicts existing at this time.
Etchings and engraved artworks provided an artist with a mouthpiece to his following - prints could be reproduced from an existing design and sold on cheapily so that almost anyone could own a copy of his work. This allowed him to spread his messages more widely and faster and also enabled his artistic reputation to spread across the rest of the European continent more quickly. Artists with particularly strong skills as draughtsmen would often call on the services of specialist engravers in order to turn their original drawings in a completed block ready for reproduction prints.
Much of the content of Goya's work mirrors reality, as he saw it, within Spain during the early 19th century. The French invasion of 1808 would claim around 20,000 Spanish lives and he revealed the horrors of this, plus the famine across the country that followed, within his art. The honest, satirical depictions of Goya would in some cases need to be presented in a way that allowed for some variety of intepretation in order to avoid significant conflicts with ruling powers. Most understood his true beliefs and they would spread through his printed etching designs. His strong morale base was disgusted by the levels of corruption and arrogance of the rich monarchists and some established religious bodies.