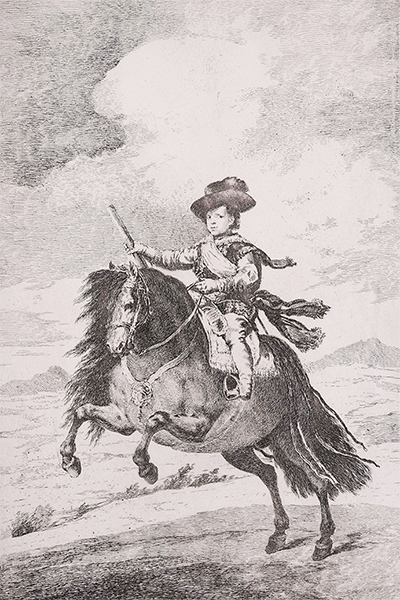 Buy Art Prints Now
from Amazon
* As an Amazon Associate, and partner with Google Adsense and Ezoic, I earn from qualifying purchases.
Francisco de Goya was one of many famous artists to have developed their skills by studying, and in some cases making copies of, the work of previous masters.
It was specifically Diego Velazquez who caught Goya's eye in his early years and would go on to make several etchings based on some of Velazquez's paintings. The most obvious connection between these two would be their Spanish connection although even more significant was the sharing of their love for the genre of portraiture.
Many of Velazquez's original paintings had been collected by the Spanish monarchy and this may well have enabled Goya to access them more easily. They were stored at the Royal Palace, though Goya was not yet as well established as he would later become so would have had to have drawn on several favours in order to get to see them.
At this turbulent time in Spanish society the Monarchy may have been keen to protect their assets from sale of theft and making copies of the best work was one way of bolstering their future plans. Accurate etchings from someone as skilled as Goya could be used to redo any missing paintings, as a last resort. It is perhaps more likely that this was just one artist expressing his respect to another and seeking to develop his own skills at the same time.
It is believed that there were around 22 completed prints in total, possibly more considering the likelihood that some may have since been lost. Some of the scenes recreated include The Triumph of Bacchus, Portrait of the Count-Duke of Olivares and Aesop and one can draw a clear connection with these titles and the lines of ownership at that time. Goya developed a new technique called Aquafortis for some of these etchings.