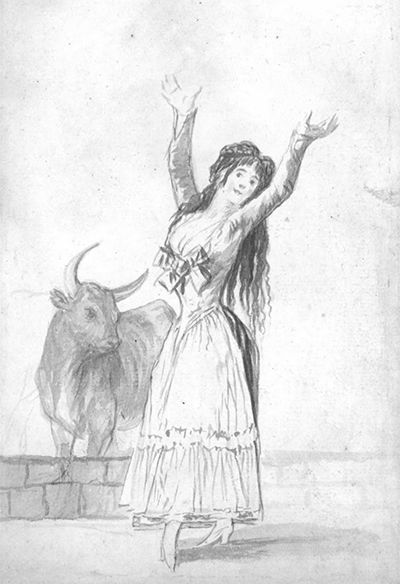 Buy Art Prints Now
from Amazon
* As an Amazon Associate, and partner with Google Adsense and Ezoic, I earn from qualifying purchases.
The female model featured in this drawing was used on multiple occassions by Goya during this series of drawings which filled multiple sketchbooks and were eventually sold on by his son, Xavier.
The elegant of the young woman here may remind some of the ballerinas from the career of Edgar Degas, an equally skilled figurative artist based in France a century later. The artist appends a large bow to her outfit in this piece, and adds a bull to the background to complete the oudoor setting. A small brick wall is also placed to separate the two figures. The lady holds her hands aloft as if carefree and happy.
There has been some discussion that this model is actually being used to represent the Duchess of Alba, though that has never been confirmed. She was famous for her emotional character and perhaps the artist is attempting to capture some of the positive sides to it in this series of drawings. Draughtsman Goya adds darker strokes of ink to the right hand side of each figure in order to create shadow and also darkens the lady's hair which makes it particularly prominent.
Goya concentrated on drawing at this point in his career because there were not many materials in his location for his other techniques, such as painting. It would always be relatively straight forward to get hold of some simple sketchbooks and some pen and wash to complete this simpler style of art, whilst also practicing his figurative skills which could later be used in paintings once he had relocated.