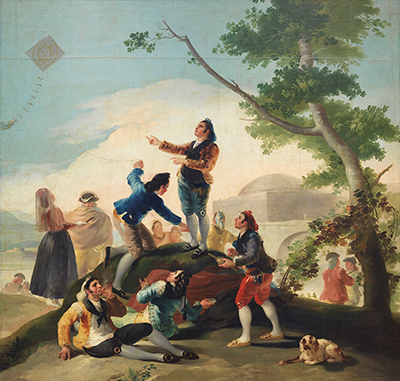 Buy Art Prints Now
from Amazon
* As an Amazon Associate, and partner with Google Adsense and Ezoic, I earn from qualifying purchases.
The Kite (La Cometa) was produced by Francisco de Goya around 1777-1778 as part of a series of ten designs that were focused on the theme of life in the countryside. The commissioned set was intended to be hung at the El Escorial.
This charming piece features a whole plethora of figures enjoying some hard earned leisure time. The setting is a beautiful landscape scene, with bright blue sky and foliage in the foreground. It is clearly an upbeat piece which creates a positive view of life outside of the cities. The figures are elegantly dressed, suggesting a wealthy background as most people during this period would not have been able to spare time from their daily tasks. The kite itself, as mentioned in the title, floats on the left hand side of the artwork, whilst its string is held by a young man who carefully climbs up a mound in order to keep as firm control of it as possible. Others look on in excitement, keen to see whether it will become tangled in the tree that lurks near by.
The artist would later explain that the purpose of this scene was to capture the lives of city dwellers who had journeyed out to the countryside in order to enjoy some leisure time, including the flying of this decorative kite. The architecture behind the main figures is believed to be an observatory that was not actually real, but had been planned at the time. The style found here, inspired by classical Italian art, persists throughout the whole series and Goya continued to capture life out in the countryside across ten different designs.
Head to the Prado Museum in Madrid in order to view this series of cartoons from Goya. You will also be able to check out a good number of other paintings from his career, including many portraits that he produced on commission across his lifetime. Goya was a versatile artist who worked in many different styles, though these playful cartoons have not received the same level of interest as his darker era, which remains his signature look. Paintings such as The Kite help to remind us that he was not always a negative person in terms of his outlook on life, and perhaps it was some of his health issues that would later darken his palette. Technically, these cartoons are beautifully done and highly accomplished, though most would not recognise them as being from his hand right away.