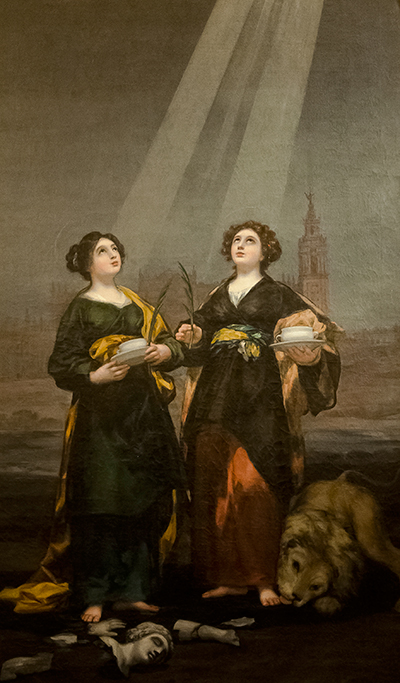 Buy Art Prints Now
from Amazon
* As an Amazon Associate, and partner with Google Adsense and Ezoic, I earn from qualifying purchases.
Two young women stare up into the sky, as a beam of light strikes down upon them. This powerful artwork from Francisco de Goya was titled Saints Justa and Rufina and was completed in 1819. It is now in Seville Cathedral.
We do know that the artist produced several different versions of this composition, including one two years earlier that now resides in the Prado Collection in Madrid. Interestingly, the building that we see in the far distance is the same Seville Cathedral that now display this piece, which feels particularly fitting. Looking at this version, we find a general cityscape across the background, using light tones which merge with the sky above. The brightest, more dominant tones are reserved for the two women. They wear matching black dresses with brightly coloured shawls falling from their shoulders. An animal is pictured by their side, certainly serving no threat as such to them. It is hard to determine its identity, but a lion seems the most likely explanation.
Around their feet is a selection of broken items, including the head of a statue. These all serve symbolic value, as do the items that they hold in their hands. We find quills as well as food, which appears to perhaps be an offering to a higher being. They look up into the sky whilst showing these items, and the light upon them gives the impression that someone is looking down on them and studying their gifts. Goya was coming towards the end of his career by this stage, and was entirely confident in his brushwork, though continuing to struggle with various health problems that had dogged him for several decades and were slowly becoming more and more of an impediment to his work. Just several years later, Goya would flee Spain and take up residence in the French city of Bordeaux because of the political instability within his native country.
The completed painting now adorns the altarpiece at the Sacristy of los Cálices in Seville Cathedral. Many oil sketches were produced in preparation for this piece, where essentially an oil painting with reduced detail and layering of oils helps to plan the final piece but without spending too much time on each one. The women hold up clay pots which represents their role as potters. They also hold the palms of martyrdom, something granted to them for their refusal to worship an image of the goddess, Venus. The painting was initially commissioned in 1817, hence the arrival of study pieces in that year, but it would be another two years before the final painting was completed and put in place at last. Goya himself is known to have travelled to the city in order to understand where the painting would hang, prior to finishing it off.