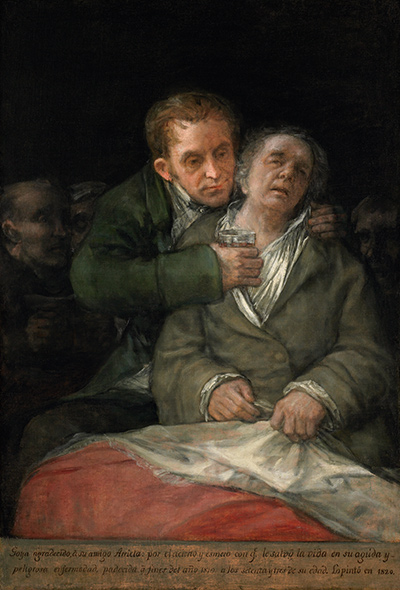 Buy Art Prints Now
from Amazon
* As an Amazon Associate, and partner with Google Adsense and Ezoic, I earn from qualifying purchases.
Francisco de Goya was a renowned Spanish artist who professed an exquisite and exceptional talent in painting. At some point in 1819, when Goya was 73, he fell terribly sick; an ailment so acute and chronic that it degenerated him quite significantly.
It took the intervention of his friend, Dr. Eugenio Garcia Arrieta who exercised his impeccable prowess and cured Goya. It was these circumstances that instigated Goya to paint the magnificent 'Self-portrait with Dr. Arrieta' in 1920.
The painting, now located at the Minneapolis Institute of Art, Minnesota is an oil-on-canvas painting with the dimensions of 115cm× 75cm (45 inches ×30 inches). It is a portrait of Goya together with Dr. Arrieta, the physician who attended to him during this excruciating moment.
The painting portrays the ailing Goya feebly sitting up while propped up by Dr. Arrieta who holds a glass of brown liquid, probably medicine, to his mouth. In the dark background behind the two, are a couple of shadowy figures. The following words are inscribed beneath the painting, 'Goya, in appreciation of his friend Arrieta: for the compassion and care with which he saved his life during the bout of ailment that plagued him in 1819, in his seventy-third year.'
Goya is on his deathbed, in a particularly deplorable state. His face is that of a moribund man in agony; a man experiencing the most excruciating moment of his life. His face looks dull and pale, his jaws slack and his eyes sunken, depicting a perfect exemplar of despondency. His debilitated fingers clutch the sheets. Goya portrays himself as very weak, tremendously faint and on the verge of succumbing to the ailment.
Dr. Eugenio Garcia Arrieta maintains a relatively anxious look. His face is an epitome of a sincere friend who is anxious upon the thought that his friend may succumb. From the way he supports Goya with one hand and holds up the glass of medicine to him with his other hand is an exhibition of his determination to save his friend. Despite the odds of things heading south for the patient being most probable, Dr. Arrieta does not badge to the imminent sorrow.
A part from the duo on the foreground, the shadowy figures on the background are most likely a conglomerate of Goya's allies who are confounded and distressed and the likelihood of the demise of their friend whose existence was precariously dancing on the edge of death.
This painting is a classical elucidation of the terrible feeling that strikes a patient who has been impoverished by a malady—a b terrible feeling that is exacerbated by diminished hope due to the excruciating pain and the overwhelming anguish.
It is also salient to observe that the ultimate healing of Francisco de Goya's illness went to prove that Dr. Arrieta was not a quack but a proficient medical practitioner. His deservedly earned credentials were significant in controverting the stereotype that was prevalent at the time which portrayed doctors as asses.