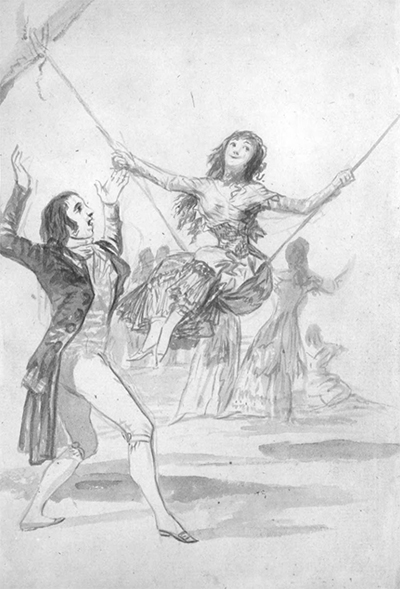 Buy Art Prints Now
from Amazon
* As an Amazon Associate, and partner with Google Adsense and Ezoic, I earn from qualifying purchases.
Who can forget the Rococo classic painting by Jean-Honore Fragonard of the same name? Well, clearly not Francisco de Goya who took inspiration from that 1767 artwork.
The mediums were, of course, very different, with this drawing making use of layers of simple wash with ink then added over the top within the artist's sketchbook. Many had taken the content of Fragonard's work and appreciated how he captured these scenes of fun and happiness when otherwise these rich individuals would be depicted in much more conservative, formal scenes. It was as if their real lives did not exist, until artists such as this came along and captured these situations.
This drawing captures two elegantly dressed friends playing in a large garden, as the lady swings forwards and backwards, seemingly without a care in the world. In the background there are much fainter figures who help to complete the scene. The simple swing appears to have been constructed from rope attached to two tree branches. There is a number given to this drawing, probably added by Goya at the time of completion in order to produce a record of his different drawings, though his son later created his own numbering system in order to try to sell some of these artworks separately.
Goya produced several tapestry designs for commissioned artworks around this time that may have called on his work with this series of drawings. The relative simplicity of them suggests that they may well have been study sketches for later artworks rather than purely for pleasure or self-expression.