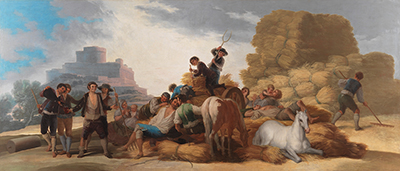 Buy Art Prints Now
from Amazon
* As an Amazon Associate, and partner with Google Adsense and Ezoic, I earn from qualifying purchases.
The Threshing Ground is a pastoral scene painted in 1786 by the Spanish artist, Francisco de Goya. It graphically depicts the overwhelming relief and satisfaction felt by a group of Spanish peasants when they have finally finished their task of harvesting a field of wheat.
Exhausted from their hard work in the summer sun, they are gathered around a hay wagon occupying the centre of the painting. At last they have the chance to relax and laugh. Even the two horses share in the peasants' joy as they rest and eat alongside them, displaying the strong sense of community and teamwork that binds them all together.
Romanticism and Personality
In The Threshing Ground, Goya skilfully used a range of pastel colours to enhance the idyllic romanticism of the countryside and a simple way of life. It is a style he greatly admired in artists such as Nicolas Lancret and Francois de Troy who were leaders of the rococo movement. Yet The Threshing Ground also illustrates Goya's fascination for observing the differences in people's personalities. On the right is a diligent labourer idly tidying the last few strands of wheat near the enormous pile of wheat sheaves. In stark contrast, on the left is a group of four peasants fooling about and drinking far too much.
White Paint
Goya's fondness for using lead white is apparent in the shirt of the strong central figure. It emphasises his role as the leader of the peasants and also deliberately draws the viewer's attention to him. It is a technique Goya was to repeat in The Third of May (1808) illustrating the Spanish victim of a French firing squad in the Peninsular War.
Tapestry Pattern
The Threshing Ground has the alternative name of Summer and measures eighty by thirty-four centimetres. It forms part of La Trilla, a collection of seasonal oil on canvas sketches that were only to be used as patterns for tapestries commissioned by the Duke of Osuna. The Threshing Ground eventually became a tapestry known as La Era. The Threshing Ground is an important painting as it finally brought Goya to wider notice as the original oil sketch had made such an impression on the Duke that he purchased it. The Threshing Ground was sold in 1896 and again in 1925 when it was purchased by Spain's most prolific art collector, Jose Lazaro Galdiano. It continues to be on display in the Lanzaro Galdiano Museum in Madrid.