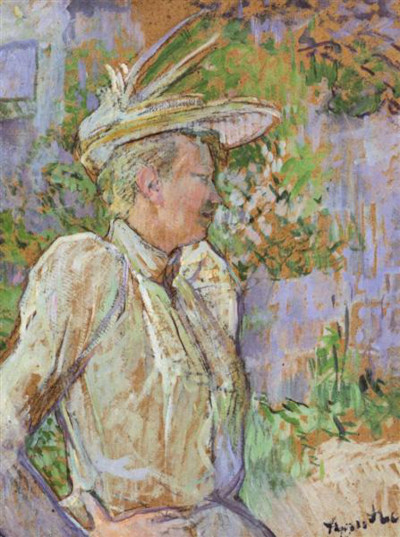 Buy Art Prints Now
from Amazon
* As an Amazon Associate, and partner with Google Adsense and Ezoic, I earn from qualifying purchases.
Gabrielle the Dancer is a portrait by Henri de Toulouse-Lautrec from 1890. The artist was heavily involved in the nightlife of Paris at around this time and regularly depicted some of its stars within his paintings.
The scene itself is unusually cropped, which is a sign of the influence of Japanese art which was strong in France at that time. Notice how the lady's right arm is partially left out, when traditional a single portrait such as this would place the subject centrally, and only possibly cut off from below the waist. The approach used by Toulouse-Lautrec gives a more natural image, as this lady relaxes in a garden. She wears a white blouse and matching hat, looking glamorous which matches her occupation as a dancer. The artist was friends with a number of dancers in local theatre shows and cabaret acts, such was the amount of time that he spent visiting them in Paris during this period of his life. He would famously become friends with Jane Avril which heralded a number of paintings too. He normally featured these characters whilst on stage, but sometimes captured them off stage in a variety of different situations.
Behind the model we find a purple house with windows just appearing from between a large assortment of plants. He incorporates some bright tones for this outdoor piece, which makes it slightly unique because of how most of his paintings were based indoors. This alternative setting allows the artist to bring in brighter tones and the use of light, which offers similarities with the earlier Impressionists who had done so much to change the course of French art. Toulouse-Lautrec loved portraiture and would take advantage of his own popularity to deliver sensitive, intimate works such as this which gave us an insight into the lives of ordinary people during the late 19th century.
Gabrielle the Dancer is believed to reside at the Museum devoted entirely to this artist, which is located in the south of France. They may offer more information on the subject herself, as most major stars of stage will have documentation about them still available today, perhaps even photographs as well. The artist's mother handed over a large amount of her son's work after his death to the museum and it retains a great significance in continuing to teach the world about the considerable achievements of this important French painter, draughtsman and lithographer.